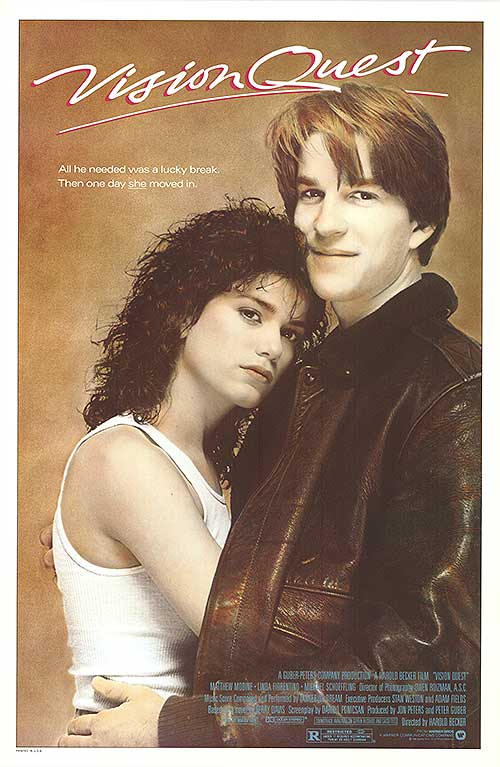 The Vision Quest Series (2015)
In 2015, Mat Talk Online commemorated the 30th anniversary of the release of Vision Quest, the most recognized Hollywood movie featuring wrestling. Starring Matthew Modine and Linda Fiorentino, the movie follows the exploits of wrestler Louden Swain and his self-inflicted challenge to drop down two weights to wrestle the most imposing wrestler in the state, Brian Shute.
Based on the novel by author Terry Davis, Vision Quest has stood the test of time among wrestling fans. While purists will point out idiosyncracies and some gaffes, the movie is still viewed as one of the most favorable to the underdog wrestler.
Featured in this three part series are the book's author Terry Davis, Frank Jasper, who played the role of Shute, and Matthew Modine, who played the role of Louden Swain.
Author Terry Davis was born and raised in Spokane, Washington where his character and literary bent was shaped. The son of a housewife and a sales executive, Davis excelled at Shadle Park High School as a wrestler and basketball player, then went on to study English at Eastern Washington University where he met fellow student Chris Crutcher — a year his senior.
Recognized early as a gifted writer, Davis went from Eastern to study under John Irving at the University of Iowa's Writers' Workshop, and later at Stanford University as an honored Wallace Stegner Literary Fellow. It was at Stanford that VISION QUEST took flight.
John Irving called VISION QUEST "the truest novel about growing up since 'The Catcher in the Rye.' " It was nominated for an American Book Award in 1981 (the American Book Awards were renamed the National Book Awards in 1987) and was named one of the Best of the Best YA novels by ALAN. Davis also wrote the YA classic IF ROCK AND ROLL WERE A MACHINE and a third more experimental novel called MYSTERIOUS WAYS.
Davis taught and coached wrestling at the high school level in Spokane, Washington and in Rio de Janeiro, Brazil before he went on to teach writing at East Carolina University. He then taught for more than a decade for the MFA program at Minnesota State University at Mankato, where he still teaches, adjunct. He is a powerful speaker and a craftsman who helped mentor Chris Crutcher, Terry Trueman, Alexandra LaFaye, Nick LaRusso and many other fine authors into the world of young adult literature.
FRANK JASPER as BRIAN SHUTE
FRANK JASPER – L.Ac., Dipl.Ac. – has spent much of his life learning and perfecting various aspects of the healing arts. His early backround included pre-med studies, energy medicine and athletic training. He has a Masters degree in Oriental Medicine from Yo San University, where he did his internship. He holds both California State and National Certificates in Acupuncture, specializing in Sports Medicine. He also trained and is certified in Clinical Nutrition, Meridian Stress Assessment, Craniosacral Therapy, and Reflexology.
By Incorporating these modalities with Acupuncture he creates unique individual treatment programs for his patients, which includes a program for detoxification from chemo and radiation. In addition, Frank holds a black belt in Aikido, is a Reiki Master and has studied and taught Qi Gong for over 25 years.
Jasper has somewhat reprised his role as Shute, making appearances at high school and college wrestling events around the country. His iconic log silhouette is emblazoned on shirts throughout the country.
MATTHEW MODINE as LOUDEN SWAIN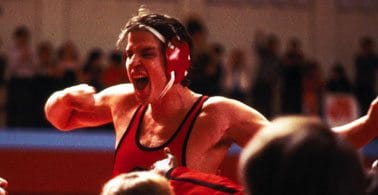 Matthew Modine is an American actor and filmmaker, who rose to prominence through his role as United States Marine Corps Private Joker in Stanley Kubrick's Full Metal Jacket. His other well-known film roles include the title character in Alan Parker's Birdy, the high school wrestler Louden Swain in Vision Quest, Drake Goodman in Pacific Heights and Dr. Ralph Wyman in Short Cuts. On television, Modine is well known for portraying Dr. Martin Brenner in Stranger Things, the oversexed Sullivan Groff on Weeds, Dr. Don Francis in And the Band Played On and Ivan Turing in Proof.
Through out his career, Modine has been nominated twice for a Golden Globe Award for Best Actor in a Miniseries or Motion Picture Made for Television for his work in And the Band Played On and What the Deaf Man Heard and won a Special Golden Globe for him and the rest of the ensemble in Short Cuts.[2] He was also nominated for a Primetime Emmy Award for Outstanding Lead Actor in a Miniseries or a Special for And the Band Played On.
Image & bio credits: AllPosters.com, WriterTerryDavis.com, Osani Holistic Health Care, Wikipedia.