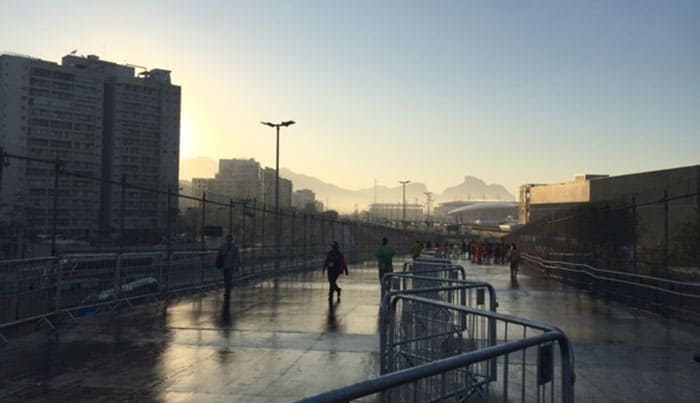 Been a few days since the latest update, but it's been filled with a lot of walking.
I wear a Fitbit and it forces me to get more movement because when you work from home, you can be somewhat sedentary. Being sedentary in Rio is not an option. To head to Beach Volleyball from my hotel, it's a 45 minute walk down Copacabana Beach or a 20 minute combo of walking and the MetroRio.
Getting to the wrestling venue, that's a different story entirely.
It's about 8:13 a.m. on August the 14th and we're kicking things off at 10 a.m. It took me an hour and 40 minutes to get here today. That's probably standard. The day started with a 5:15 wake-up call, an ice-cold shower and a pretty nice sunrise that came over the Rio horizon.
It's not ideal, but if we get done early enough each day, I think we can still get some good sleep. Saturday's rehearsal went long, so we didn't get back to the hotel until about 1 a.m. After a call to my wife, who is at her parents place up near Lake Mille Lacs, I was quickly down for the count.
So I go from the hotel to the metro stop, which is just out the door. Caught the train at 5:55, go one stop, switch trains, catch the next train at 6:10. Follow that train until the end, then jump on a bus. Got to the bus around 6:35, then ride the bus in Barra to the Olympic Park. Landing at the Olympic Park around 6:55. Then the fun begins!
We've got a long walk through the workforce security, then through the park. It's probably a good 35 minutes once you get off the bus. By the time I've sat down, my Fitbit reads over 6,000 steps — and we haven't started yet.
We'll see how great the wrestling goes today. As for the last few days, I had a chance to hit Beach Volleyball with Julia Salata, Emma Randall and Carrie Harmon-Moore, then crashed the Seacrest show again. I spent way too much money getting basically my entire neighborhood gifts from the MegaStore.
I did get the chance to go to USA House in Ipanema on Friday night and ran into WWE superstar Mark Henry. He was a former Olympic weightlifter and enjoys the Olympic experience. Ran into Virginia buddy Andrew Farrar there as well and my friend Nicole Jomantas from Fencing. They've had a pretty good Games.
Long story short — we're finally here for what we're here for — if that makes sense. Better updates later on in the week.