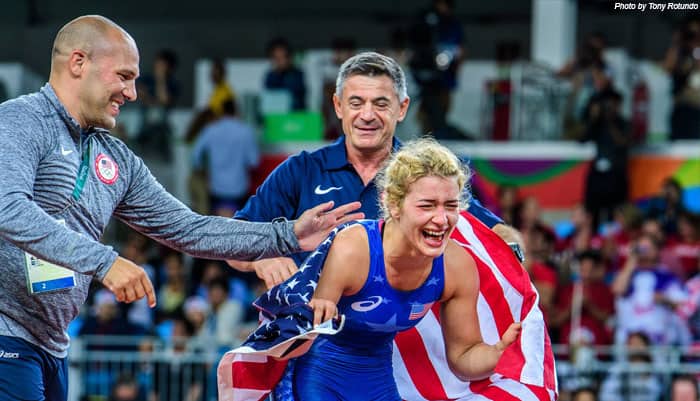 On August 17, I stood 50 feet away from what became the most impressive Olympic wrestling career of any athlete ever to walk the earth.
Yes. That's exactly what it is.
On a Wednesday, Japan's Kaori Icho did something no human had ever done — win a fourth Olympic wrestling gold medal. There have been numerous athletes who won four medals and nine wrestlers who have won three golds, but no one had ever won four golds. The closest  one had come was in 2000 Olympic Games in Sydney when a farm boy from Wyoming knocked off the most physically imposing heavyweight to walk the earth. Rulon Gardner's win over Russian Aleksandr Karelin set the standard for wrestling upsets.
At least, maybe it did.
As Icho scored a late takedown to stave off a similar fate Karelin suffered in his final match, she became a true legend. With 10 world championships and four Olympic golds, there wasn't much that keeps her from being called the greatest women's wrestler of all-time. Well, there is that one thing — her countrywoman Saori Yoshida.
Yoshida came into the 2016 Olympic Games with 13 world championships and three golds at the Olympics. When you mentioned Icho, you had to mention Yoshida.
Maybe now you won't have to because of a young woman named Helen Maroulis.
But more on Maroulis in a minute.
It's now August 18. This is my first Olympic Games as the English public address announcer. When you hear English in the venue, in the background of your TV or pretty much anywhere that isn't a video inside Carioca Arena 2, it's my voice you're hearing. I've witnessed some amazing things in my career as a journalist covering wrestling. I saw Cael Sanderson's fourth NCAA title, I watched Logan Stieber and Kyle Dake each win all four of their titles. In London, I saw Jordan Burroughs and Jake Varner claim Olympic gold.
But to witness Icho put herself into a place no other human being has ever stood. That was a special moment.
Perhaps if I were Japanese, it might trump what happened 24 hours later.
Now, back to Maroulis.
The first time I met her, I wouldn't exactly say it was what you'd call memorable. You typically don't get a lot of words out of high school sophomores cutting weight in an airport on their way to Fargo. I remember standing at a gate at Baltimore-Washington International (BWI) with my buddy Akil Patterson, who was an official in Fargo and traveling with team Maryland. What I knew about the girls wrestling in Maryland essentially centered around Nicole Woody, who would eventually win four Junior women's titles.
I remember Maroulis sitting along the glass wall with headphones on, baggy sweats and this "I hate cutting weight" look on her face. She'd placed against the boys in high school, so she wasn't an unknown entity to me, but 20-something guys don't just start conversations with high school sophomores without coming off creepy. So yeah, we didn't exactly exchange too many words except for the "oh cool," and "good luck."
I also remember in 2007 when Maroulis and Nicole both won Fargo, the two jumping up and down like crazy with rubber chickens in their hands as I was trying to get an interview done. In case you're wondering, Maryland used to have this tradition of throwing rubber chickens on to the mat in Fargo whenever one of its wrestlers would win a title. I say bring it back.
Actually, I was half-expecting to see a rubber chicken fly from the stands on Thursday night.
On Thursday night in Carioca Arena 2 in Rio de Janeiro, Brazil, Helen Maroulis did something no one else has ever done — beat Saori Yoshida for a gold medal in an Olympic final. That accomplishment gave her the right to say she's done ANOTHER thing no one else has ever done — win a gold medal for the United States in women's freestyle wrestling.
Not a bad double-up if you ask me.
Richard Immel will likely give me some crap for picking Yoshida on the journalist picks that USA Wrestling does each year, but you know what, I don't care about those picks. Never have, although Jordan Burroughs to this day likes to give me crap for not picking him in his first World Championship. Oh, and more on that later too.
History wasn't on Maroulis' side. Her two previous appearances against Yoshida didn't end well. In 2011, Yoshida pinned her at the 2011 World Championships in Istanbul. Yoshida would prevail in the 2012 Women's World Championships up in Canada, too.
But this also isn't the same Maroulis from four years ago. This isn't the same Maroulis who tensed up as a heavy favorite at the 2012 Olympic Team Trials and didn't compete in London.
What we saw on Thursday was the byproduct of some serious life changes, both physically, spiritually and mentally. She became fearless and that mentality led to a mindset that saw her dig deep and come from behind to beat a scrappy wrestler from North Korea. We saw her blow through  world champion Sofia Mattsson like she a state champ wrestling a first-year JV kid.
I'm burying the lede again, and I'm rambling between ideas, but here it comes.
On Thursday, the shy, timid Maroulis the newspapers speak about when she got into wrestling exploded into a tactically superior wrestling machine. Maroulis beat one of the best to ever grace a wrestling mat.
She made history. She stopped history. To borrow a term from her short web series from The History Channel, Maroulis was indeed making HISTORY NOW.
This is clearly a story about Helen Maroulis, but this is my blog, so here's where I come in. As I mentioned above, my role as the English announcer means I say everything in English.
For the second time in my professional career, I lost my composure. I did what I could to be impartial the entire time, but when Maroulis' hand was shot skyward by the official, I needed a few deep breaths to clear the quivering in my voice. I was a mess. Keeping it together long enough to give her the call a champion deserves, I wiped the tears away and just watched as Maroulis took her victory lap. But guess what, that wasn't the worst of it.
"Ladies and Gentlemen, the national anthem of …. (breath) THE UNITED STATES OF AMERICA!"
Now THAT's where I lost it. Mother of all get out — when you have that responsibility to say 12 little words and those 12 words are what every American Olympic hopeful desires to hear — that's pressure.
But the pressure didn't get to me. The raw emotion did.
I've teared up watching wrestlers do amazing things. I recently touched upon watching a friend's little brother win a state title back in 2009 and how I cried my eyes out. I wasn't on the clock then. I wasn't covering that tournament. I wasn't working in some official capacity.
The first time it happened came in Istanbul in 2011 when the aforementioned Burroughs won gold for the first time. As I did the webcast audio for USA Wrestling, the voice cracked, the lump in the throat formed and I had to take a breath and just let it go. Burroughs' first gold didn't cause me to melt down and bawl like a baby, but it took me out of my comfort zone as a member of the working press.
Five years later, it happened again, but this time, it was bigger. Everything about it was strangely perfect. The first U.S. women's wrestling gold medal was won by going through one of the greatest of all-time, if not THE greatest of all-time.
Not only did I see history made for our country and history made by someone I call a friend and someone I've covered since they were a Cadet, but I witnessed one of the all-time greats lose to that same person.
Americans tend to do things the hard way. Cutting down a weight to try to win a gold medal against someone who's not lost a World-level individual tournament title since I was a freshman in college isn't the easy way.
Save a rocky match against a North Korean, Maroulis made it look easy, well, easier.
And in 2016, I was fortunate enough to be the voice for all of it — tears or no tears.
Congrats Helen. That was amazing to be a part of … for the UNITED STATES OF AMERICA.