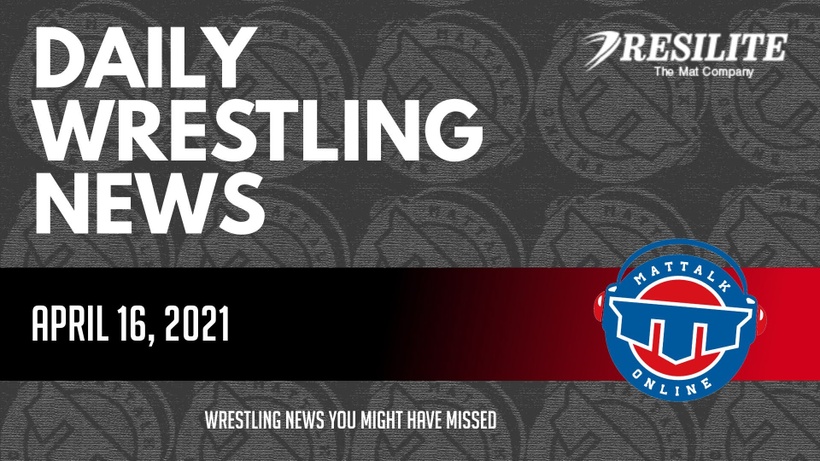 There's a lot of wrestling news out there you don't normally see, because it's not really centralized, so that's where the Mat Talk Online Daily Wrestling News has come into play. Each day, content is curated and put together for a morning e-mail newsletter that will arrive at approximately 6 a.m. Central at least five days a week. Not interested in getting another e-mail? Read the news you might have missed from around the world. Some news might be related to other sports but has a connection to wrestling, that's why you'll sometimes see those here as well.
Get this delivered to your inbox daily by signing up at mattalkonline.com/news
Catch-up on Wolfpack Wrestling news with head coach Pat Popolizio on episode 81 of the #PackMentality Pop-Ins Podcast. Host Brian Reinhardt and Popolizio run the gamut of wrestling action over the past month, from the NCAA Championships to the Olympic Team Trials to four Super Senior returning to the Pack.
Fellow wrestler Adeline Gray said she will receive her second dose sometime this week and encouraged others to sign up.
With as many as 10 people, including three women wrestlers testing positive for Covid-19 on Wednesday at the national women's wrestling camp, it has forced Wrestling Federation of India (WFI) to shut Olympic preparatory camps at the Sports Authority of India (SAI) training centres in Sonepat and Lucknow
The third time was, indeed, a charm, and now Sarah Hildebrandt wants to turn it into gold.
It is a question that haunts Taylor as well. Taylor, a three-time All-American wrestler, decided to found Athlete Ally after donning a pro-LGBTQ sticker on his wrestling headgear in college, a statement which provoked criticism from teammates but induced a flood of support from other athletes, including some closeted wrestlers.
The NCAA announced today that recruiting dead period will end on May 31, 2021 and regular recruiting activities can begin on June 1, 2021.
After 13 strong seasons as the head wrestling coach at Stanford University, Jason Borrelli will bring his impressive track record to the East Coast, as he is set to take over as American University's head coach, the University announced Tuesday.
Sarita MOR (IND) became the first Indian woman in history to win a second Asian gold medal when she defeated an opponent who had beaten her earlier in the day.
Right now the only thing Gouverneur junior Carter Baer knows for certain about his sport is that there will be some form of Section 10 wrestling starting soon.
Penn State wrestling's Jarod Verkleeren announced Thursday he'll transfer to Virginia to continue his college wrestling career.
China's women pulled out of the United World Wrestling (UWW) Asian Championships in Almaty on the eve of their competition today and were due to have left Kazakhstan by tonight.
Parker Venz of Farmington has committed to wrestling for Augsburg University next season.
Northwest Tech is pleased to announce the launch of collegiate Women's Wrestling at the college, with competition beginning in the Fall of 2021. The move comes following a decision at the March board meeting as the college works to strengthen enrollment and increase female student-athletes on campus.
Weight management out-of-season may seem difficult, but with the right combination of physical activity and eating habits, it's easier than you think! Many wrestlers experience significant weight gain post-season due to changes in eating habits and frequency of training. Here are some tips for better managing your weight in the off-season:
The University of Virginia has earned the reputation of being one of the top academic institutions in the country and head coach Steve Garland wants his athletes to make the most of their time on Grounds.
St. Cloud State University head wrestling coach Steve Costanzo announced the addition of three more student-athlete to an already strong 2021 recruiting class. Nicholas Lopez (Huntley, Ill.) and Paul Ruff (Gering, Neb.) have signed a National Letters of Intent with the Huskies while Nate Rocheleau (Gering, Neb.) has signed an Acceptance of Admission form.
Compound's Cliff Fretwell does a deep dive into purposeful execution strategies to grow your personal or business brand via social media content.