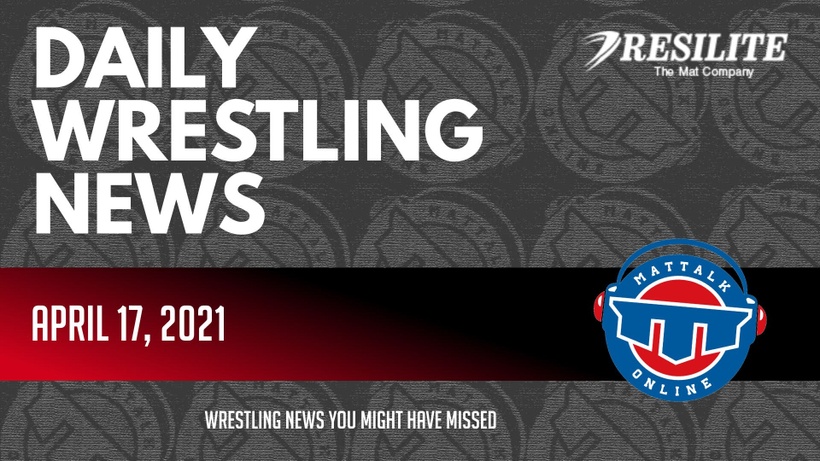 There's a lot of wrestling news out there you don't normally see, because it's not really centralized, so that's where the Mat Talk Online Daily Wrestling News has come into play. Each day, content is curated and put together for a morning e-mail newsletter that will arrive at approximately 6 a.m. Central at least five days a week. Not interested in getting another e-mail? Read the news you might have missed from around the world. Some news might be related to other sports but has a connection to wrestling, that's why you'll sometimes see those here as well.
Get this delivered to your inbox daily by signing up at mattalkonline.com/news
Two of the top coaches in the NJCAA, Joe Renfro of Northeastern Oklahoma A&M and Josh Rhoden of Clackamas, will come on Short Time to talk about the unique season that's impacted the junior college wrestling landscape and talk a bit about the upcoming NJCAA Championships on April 21-22.
The latest guest in the Wrestlers In Business Network's speaker series is Spartan founder and CEO Joe De Sena. A New York native, De Sena was never a wrestler, but through his time at Cornell Univeristy, he befriended head wrestling coach Rob Koll and is now an active member of the sport.
Penn RTC coach Brandon Slay was a 2000 Olympic gold medalist and two-time finalist at the NCAA Championships for Penn (1997-98).
Sacred Heart coach Johnny Clark was a two-time All-American for Ohio State. His father, John, coached St. Lawrence to a D3 NCAA team title in 1988 while his brother, Mitch, was a 1998 NCAA champion for Ohio State.
There is an opening on the Rutgers wrestling staff, and according to three sources with knowledge of the situation, a strong possibility for that opening is former Rutgers 4x All American Anthony Ashnault.
After so many years of just missing his goals, native Pennsylvanian and Oklahoma State great Jordan Oliver has reached the top of the domestic ladder in the US. He has one more hurdle ahead of him if he wants to go to Tokyo…
Years before Roman Rozell became a Green Beret and the oldest man to compete in an NCAA DivisionI wrestling match, he was an overweight and troubled kid at Apache Junction High School.
He's a legend in New Jersey high school wrestling – and a mystery in the stock market.
Stanford University President Marc Tessier-Lavigne met with alumni advocacy group 36 Sports Strong, sparking optimism that 11 sports could be reinstated.
The Indian women wrestlers dominated the action in Almaty on Friday.
Bolortungalag ZORIGT (MGL) stopped an Indian gold rush on the final day of the women's competition at the Asian Championships with a stunning victory at 65kg on Friday that propelled Mongolia to victory in the team standings.
The European Championships start next week in Poland with more than half of 2020's champions returning to the mat for wrestling's premier continental event.
The Minnesota State High School League has released new section assignments for 2021-2022. Previous and new section assignments for wrestling are listed below.
The brackets for the NJCAA National Championships were released today via Twitter.
As FloWrestling has reported this week, the Ultimate Club Duals, set for State College, Pa. on Saturday and Sunday, will have some amazing talents on display in the boys divisions.
Two weeks ago now, we witnessed something very special happen with the women's freestyle (WFS) competition at Olympic Team Trials (OTT).
On episode 94 of Mat Chat with David Mirikitani, David sits down with Arizona State head coach Zeke Jones and assistant coaches Lee Pritts and Frank Molinaro.
Since 2013, the Minnesota Wrestling Coaches Association has recognized the Team Champions from the MSHSL Individual State Tournament.
RUDIS Wrestling Gear is pleased to announce its most recent venture with Luminary Group with the release of a signature apparel line honoring the bold and competitive spirit of legendary football coach, Vince Lombardi.
Donny Albach (Monroe Township, NJ/Monroe Township), Will Ortman (Hopewell Valley, NJ/Hopewell Valley Central) and Miguel Ruiz (Madera, CA/Madera) are all set to graduate in May.
After being away from competition for over a year due to the COVID-19 pandemic, The University of Scranton wrestling team will hit the mats on Sunday, April 18, as the Royals host their 2021 Spring Exhibition Dual inside the John Long Center beginning at 1 PM.