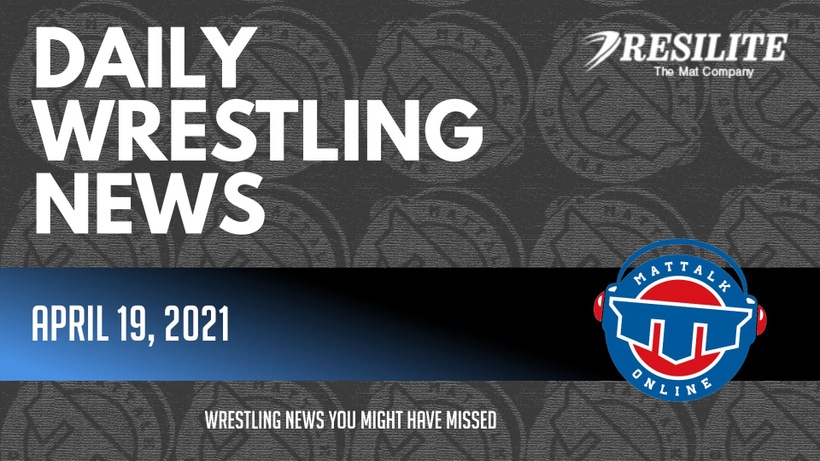 There's a lot of wrestling news out there you don't normally see, because it's not really centralized, so that's where the Mat Talk Online Daily Wrestling News has come into play. Each day, content is curated and put together for a morning e-mail newsletter that will arrive at approximately 6 a.m. Central at least five days a week. Not interested in getting another e-mail? Read the news you might have missed from around the world. Some news might be related to other sports but has a connection to wrestling, that's why you'll sometimes see those here as well.
Get this delivered to your inbox daily by signing up at mattalkonline.com/news
Another US Trials. An Olympic Trials, at that. And Army's World Class Athletes Program has two card-carrying Olympians and altogether seven National Team members across six weight categories. Not bad.
Narsingh's performance at the Asian Championships has bolstered his resolve of achieving his Olympic dream.
Coming from a man who won 13 World Championships and/or Olympics medals it sounds simple, but Bruce Baumgartner's message resonated realistically and reasonably:
The article looked at Lee being named the Hodge Trophy winner for two years in a row, which is remarkable. Lee's career at Iowa has been incredible as was his high school accomplishment of three state championships.
Mike Catanzaro has played three football games this season as a senior outside linebacker and running back for Williamsville North.
Elsewhere, Greg Bulsak announced on Instagram he is transferring to the Rutgers Scarlet Knights from Clarion University for his final season of eligibility.
For superstar Hassan YAZDANI (IRI), the Asian Championships are just a stepping stone in preparing for his ultimate goal of winning a second straight Olympic gold medal in Tokyo. He rocked it anyway.
Jake Paul knocked out Ben Askren in the first round of their highly-publicized boxing match Saturday night in Atlanta.
The highly anticipated third clash of the Asian 65kg titans never made it to the mat, and after receiving an injury default from rival Bajrang PUNIA (IND), Takuto OTOGURO (JPN) said he would love for the match to happen this summer in Tokyo.
UFC middleweight fighter Derek Brunson has earned his Brazilian jiu-jitsu black belt from Renzo Gracie and has stated that we'll be seeing him compete in both gi and no-gi at some point in the future.
2021 IOWA WRESTLING NATIONAL CHAMPIONSHIP CELEBRATION AT KINNICK STADIUM
After being away from the mats inside the John Long Center for over a year, The University of Scranton wrestling team returned to action on Sunday, finishing off their 2020–21 season with an intersquad exhibition event.
Many of the nation's best boys and girls wrestlers came to State College, Pa. this weekend representing many of the nation's strongest club programs, to compete in the freestyle wrestling at the Ultimate Club Duals on Saturday and Sunday.
One of those moments being when 7X U.S. Senior National Team member Jackie Cataline left her shoes on the OTT competition mat publicly stating her retirement from the sport of wrestling.
The response might be, Really? The best? And should the inner dialogue in the minds of readers posit such questions, then it is only fair that they receive an answer:
Now that the 2021 Season has concluded, every team, every conference, and every site has their "End-of-Season" awards, so why not do the same at #FantasyCollegeWrestling?