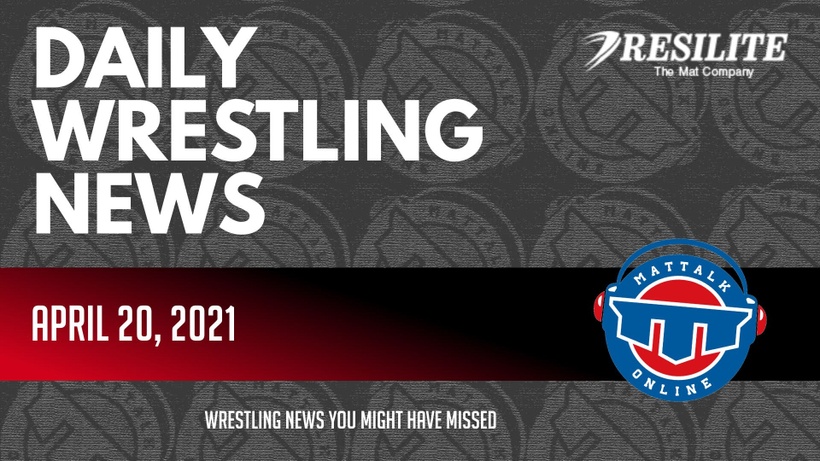 There's a lot of wrestling news out there you don't normally see, because it's not really centralized, so that's where the Mat Talk Online Daily Wrestling News has come into play. Each day, content is curated and put together for a morning e-mail newsletter that will arrive at approximately 6 a.m. Central at least five days a week. Not interested in getting another e-mail? Read the news you might have missed from around the world. Some news might be related to other sports but has a connection to wrestling, that's why you'll sometimes see those here as well.
Get this delivered to your inbox daily by signing up at mattalkonline.com/news
Michala Beck competed at the 2020 Olympic Trials and recently moved to Madison to train at the Wisconsin Regional Training Center. She competed at the 2019 Junior World Championships and was a Junior National champion in 2016.
In 2001, Tom Clum, a senior at Pomona High School, entered the final match of his scholastic high school career with a 148-0 record and three Colorado state championships.
Kerry McCoy is currently the executive director and head coach at the California Olympic Regional Training Center.
Victor Voinovich has it all mapped out. Win a couple of state wrestling titles for Brecksville-Broadview Heights High School, continue to refine his sport at Oklahoma State University, qualify for the U.S. Olympic team and eventually forge a career as a college wrestling coach.
21-year-old wrestler Vazgen Tevanyan is one of Armenia's Olympic hopefuls for Tokyo 2020.
Ihave been alive long enough to have experienced the work of some truly great sports commentators. Scully. Michaels. Costas. Tirico. Davidson. You're not familiar with legendary boxing analyst Pete Davidson?
Jackson Spires spent last week on spring break.
A recent case study presented at the MIT Sloan Sports Analytics Conference by Andy Schwarz, Chief Innovation Officer at the Professional Collegiate League and partner at the Economic Consulting Firm OSKR, provides a look at the misleading effects of collegiate athletics accounting procedures.
The Russian Federation emerged victorious in 12 of 13 matches on the opening day of wrestling at the Hala Widowiskowo-Sportowa and have a quartet of wrestlers vying for European gold on Tuesday night.
The official 5PM Greco-Roman rankings were reset following the 2020 Unites States Olympic Team Trials earlier this month in Fort Worth, Texas.
Derrick Cardinal of Forest Lake is this year's Minnesota Wrestling Coaches Association Mr. Minnesota of Wrestling.
Wreaper Wrestlers, we are officially entering the next phase of the Trek To Tokyo A.K.A. the 2021 Tokyo, Japan Olympic Games!
Here are the 125-157 pre-seeds for this week's D3 College Championships in Pocono Manor, Pennsylvania.
USA Wrestling is regularly publishing a list of sanctioned events as our nation and our sport comes back from the COVID-19 pandemic.
Upon his return, Lookabaugh became a two-sport star continuing to play football and also competing for Ed Gallagher's wrestling team. Known as the "First Superstar of Oklahoma State Athletics," according to the National Wrestling Hall of Fame.
The National Wrestling Hall of Fame Minnesota Chapter Banquet will be live-streamed on the NWHOF Rokfin Channel.
The Mid-American Conference announced Monday the 2020-21 Wrestling Academic All-MAC Team. A total of 84 student-athletes were named to this year's squad.