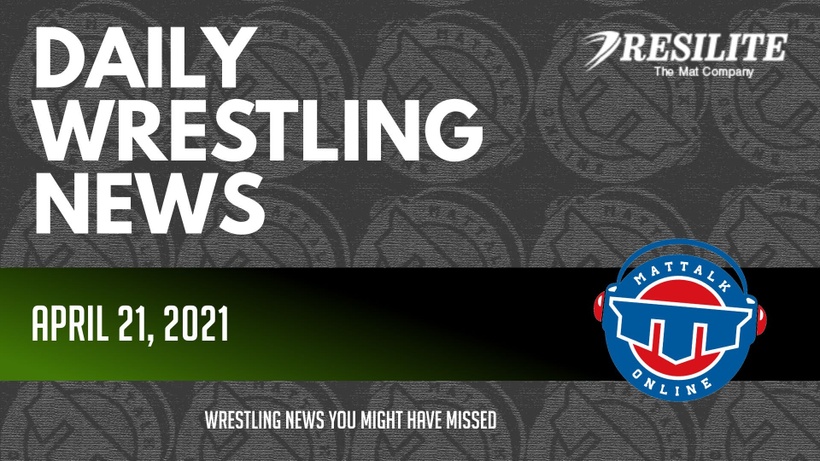 There's a lot of wrestling news out there you don't normally see, because it's not really centralized, so that's where the Mat Talk Online Daily Wrestling News has come into play. Each day, content is curated and put together for a morning e-mail newsletter that will arrive at approximately 6 a.m. Central at least five days a week. Not interested in getting another e-mail? Read the news you might have missed from around the world. Some news might be related to other sports but has a connection to wrestling, that's why you'll sometimes see those here as well.
Get this delivered to your inbox daily by signing up at mattalkonline.com/news
On March 28, 1970, sophomore Larry Owings (Washington) defeated senior Dan Gable (Iowa State), 13-11, in the 142-pound finals of the NCAA Championships.
Taking his experiences as an Olympic wrestler and paying it forward, Kevin Bracken is serving as a mentor to the young wrestlers who have recently qualified to represent the U.S. in the summer Olympics in Japan.
In a colossal battle of titans, Taha AKGUL (TUR) avenged his '19 world finals loss to Geno PETRIASHVILI (GEO) and kept his hopes of winning an eighth continental title alive.
A Cienega High School volunteer has been arrested after police say he is responsible for selling illegal substances to students.
The crazy 2021 college wrestling season continues with the National Junior College Athletic Association (NJCAA) National Championships at the Mid-America Center in Council Bluffs, Iowa, Wednesday April 20 and Thursday, April 21.
Ahead of the 2021 fall season, LHU head coach Scott Moore has announced the 2021 wrestling recruiting class.
Rutgers wrestling added collegiate transfers Greg Bulsak (Clarion) and Nicholas Raimo (Arizona State) to its 2021-22 roster, head coach Scott Goodale announced today.
The Oregon State wrestling team has added graduate transfers Tanner Harvey and Cory Crooks, the program announced Tuesday afternoon.
The NCAA Wrestling Rules Committee recommends rules changes that allow the referee to correct timing errors when that referee has reasonable knowledge of the correction that needs to be made.
Poquoson's Karon Smith made his name on the Bull Island as an individual state titlist in each of the Islanders' past three Class 2 wrestling tournament championships. But surprisingly, Smith's favorite sport is football.
Cross Early put on his green ankle bands, hopped up and down a few times, and brushed his hair to the side before shaking hands with his opening-round opponent at USA Wrestling Folkstyle Nationals on April 2, 2021. His mother, Angie, watched nervously from her home in Clanton, Alabama.
The National Wrestling Hall of Fame, USA Wrestling and FloWrestling on Tuesday released the sixth national rankings for high school girls wrestlers for the 2020-21 season.
States will have a choice of 12, 13 or 14 weight classes for both boys and girls competition in high school wrestling, effective with the 2023-24 season.