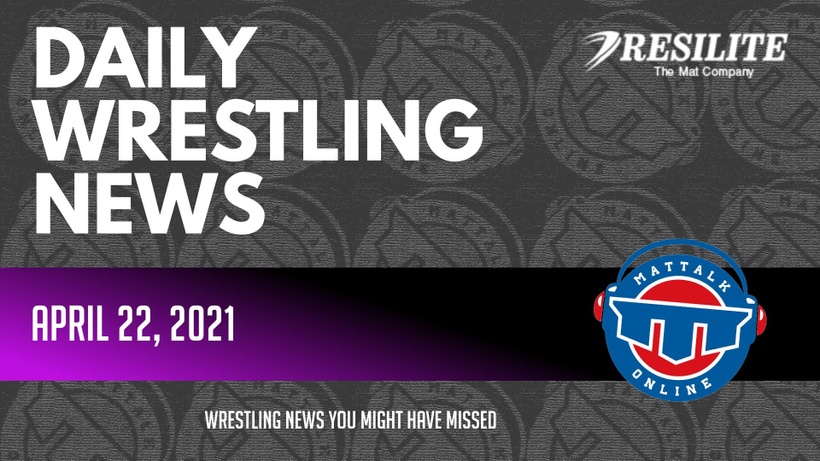 There's a lot of wrestling news out there you don't normally see, because it's not really centralized, so that's where the Mat Talk Online Daily Wrestling News has come into play. Each day, content is curated and put together for a morning e-mail newsletter that will arrive at approximately 6 a.m. Central at least five days a week. Not interested in getting another e-mail? Read the news you might have missed from around the world. Some news might be related to other sports but has a connection to wrestling, that's why you'll sometimes see those here as well.
Get this delivered to your inbox daily by signing up at mattalkonline.com/news
For Jason Loukides, the cut at UNC Greensboro still stings a decade after school administrators announced the drop three days before Spartan wrestlers were to wrestle at the NCAA Division I Championships.
After 581 days off the mat, Maria STADNIK (AZE) began where she left in Nursultan. If the World Championships in 2019 were a display of her strength, she put on a show of her speed on Wednesday to reach the final of the European Championships in Warsaw.
Iranian "athletes were tortured and imprisoned for wanting to compete against Israeli athletes."
After spending most of the last 40 years coaching wrestling in some form or fashion, Jeff Howley had an experience last week unlike anything he'd ever faced.
Section VI announced Wednesday that it will move forward with the high school wrestling season beginning May 3 – without Erie County high school student-athletes.
We'll have what they're having. A mysterious $100 million company that owns just one tiny New Jersey deli is linked in multiple ways to another odd company, E-Waste Corp.
Chloe Ayres was thrilled to win a third state wrestling title, but was even happier with the news that came a few days before it.
Former Bellator MMA and Brave CF standout Bubba Jenkins is set to make his debut with the PFL this Friday night. And he's been paired up with an old rival from his collegiate wrestling days: two-time featherweight champ Lance Palmer. Scratch that. There's no rivalry, according to Jenkins.
Jones, 38, is one of the most successful American collegiate wrestlers of all-time. At West Virginia University, Jones won three NCAA Division 1 wrestling titles – one of only 39 wrestlers to accomplish that feat in the tournament's 75-year history.
Lance Palmer thinks he's one of the world's best. The former WSOF featherweight champion and two-time PFL season winner thinks he ranks among the best 145-pound fighters in MMA today. Palmer (22-3) returns to the cage Friday to start a quest toward a third consecutive PFL title and $1 million at the end of the season.
Arkansas USA Wrestling state chair Kristi Mann
Coach Shaun Smith prepares Parkersburg South's wrestling team the best he can for the West Virginia State high school wrestling tournament.
Camren Ross' pursuits on the wrestling mat extend well beyond winning or losing a match.
The Lock Haven University Division I men's wrestling team is welcoming the 2021 recruiting class. The team will welcome nine new additions, all of whom have either signed an NLI, or have been accepted and/or are enrolled at LHU.
As a junior in high-school at Blue Mountain Sammy Julian wrestled for the Eagles. He also started his career as an official.
Virginia Tech wrestler Korbin Myers came back from a medical redshirt last season to finish fourth at last month's NCAA championships. Now the ACC's most outstanding wrestler has decided to take advantage of an extra year of eligibility granted by the NCAA because of the pandemic. WFXR sports' David DeGuzman sat down with Myers to discuss why he's coming back for a seventh wrestling season.
RTC South, the Regional Training Center affiliated with Chattanooga wrestling, announced the hiring of Georgia native Sean Russell as its new head coach.
Recently, InterMat took a road trip to Boone, North Carolina to check out the Appalachian State wrestling facilities and other areas of interest on and around campus.
After the Asian Olympic Qualifier last week, 36 more Olympic berths (men's and women's) were added to the official 2021 Olympic Games list. That said, outside of Last Chance in Sofia, Bulgaria, all four Continental Olympic Qualifiers are COMPLETED. There are still 3 men's weights in men's freestyle (MFS) and Roman-Greco that need to be qualified.
The 2021 U.S. Olympic wrestling team is one of the most star-studded groups to ever represent the country on the international stage. The lineup includes Olympic champions, world champions, NCAA champions, WCWA champions and future stars.
After a 2020 with no World Championships, the marquee international tournaments are back for 2021.
World Champion kickboxer and mixed martial arts promoter Dale Cook announced on his Facebook page that Nick Piccininni will be making his MMA debut in June under Cook's Xtreme Fight League promotion.
At their recent regularly scheduled meeting, held on Tuesday, April 22, 2021, the Carl Albert State College Board of Regents approved the hiring of new CASC Wrestling coach, Jake Lords. Lords will be entrusted with the startup, execution, and operations of the new CASC Wrestling program, set to begin in the fall of 2021.
CSU Bakersfield Director of Athletics and AVP of Student Affairs Dr. Kenneth 'Ziggy' Siegfried has announced the hiring of Luke Smith as the department's head wrestling coach. Smith served as the program's interim head coach during an abbreviated 2020-21 season and was the Roadrunner's lead assistant for two seasons under Manny Rivera.
University of Michigan graduate student Myles Amine captured a bronze medal at 86kg/189 pounds at the European Championships on Wednesday (April 21) at the Arena COS Torwar.
Mike Poeta, who established himself as one of Illinois's all-time greatest wrestlers and top assistant coaches in the nation as a member of the Fighting Illini staff, was named head wrestling coach today by Illinois Director of Athletics Josh Whitman.
Hardly uncharted waters in the sport of wrestling, particularly in these United States of America, are contested outcomes.