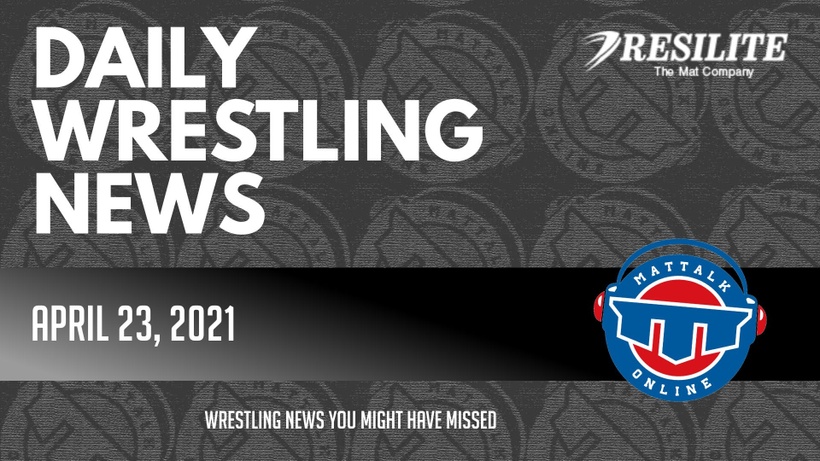 There's a lot of wrestling news out there you don't normally see, because it's not really centralized, so that's where the Mat Talk Online Daily Wrestling News has come into play. Each day, content is curated and put together for a morning e-mail newsletter that will arrive at approximately 6 a.m. Central at least five days a week. Not interested in getting another e-mail? Read the news you might have missed from around the world. Some news might be related to other sports but has a connection to wrestling, that's why you'll sometimes see those here as well.
Get this delivered to your inbox daily by signing up at mattalkonline.com/news
Clackamas won its third straight NJCAA national championship on Thursday night after a huge fall by 133-pound champion Zeth Brower gave the Cougars the points they needed to get past Western Wyoming 152.5-147.
Mariya STADNIK (AZE) has been unbeaten in Europe for the last 11 years. Ever since the 32-year-old began competing at the senior level back in 2009, Stadnik has yet to drop a bout.
Western Wyoming led returning champion Clackamas by one-half point going into the NJCAA championship finals on Thursday night. Clackamas had secured two finalists, while Western Wyoming had one.
Some of the nation's top youth wrestlers will lay it on the line this weekend in Wisconsin Dells at the UWW U15 Nationals. The tournament features both a men's freestyle and Greco-Roman division. The wrestlers with the highest placements across both styles will have the opportunity to represent Team USA at the U15 Pan-American Championships in Mexico City, Mexico this October.
For the DI NCAA college fans, we've compiled a list of all the entrants at 2021's NHSCA Nationals who listed a single school when they signed up for the event.
The Greco-Roman program at Northern Michigan University has its first Olympic Team member since 2008, a new National Team member, a surging middleweight who has rediscovered his groove, and a head coach who is proud but ever-pragmatic as this unusual wrestling season continues moving forward.
Mitch Finesilver is currently Israel's most decorated wrestler, competing in the international freestyle arena.
The University of Missouri's wrestling program is returning to the conference it called home for more than six decades with today's unanimous approval by UM Board of Curators of the program's affiliate membership in the Big 12 Conference, effective July 1, 2021. The Tigers have wrestled in the Mid-American Conference since Mizzou left the Big 12 in all sports to join the Southeastern Conference nearly a decade ago.
Fresno State and five members of its women's lacrosse team who sued to restore a program that was eliminated last October along with two other sports were handed a split decision late Wednesday, the plaintiffs' motion for preliminary injunction granted in part and denied in part without prejudice.
Long-time wrestling leader John Bardis of Alpharetta, Ga. has been named Team Leader for the U.S. Olympic Team in Greco-Roman wrestling for the 2020 Olympic Games in Tokyo, Japan. The wrestling competition at the Tokyo Games is set for August 1-8, 2021.
Tony Robie is the head wrestling coach at Virginia Tech. Prior to being named the head coach in 2017, Tony was an associate head coach under Kevin Dresser. As a wrestler, Tony competed for Bruce Baumgartner at Edinboro University.
Tony Robie is the head wrestling coach at Virginia Tech. Prior to being named the head coach in 2017, Tony was an associate head coach under Kevin Dresser.
Union County College has hired BJ Young, of Jackson, as our new wrestling head coach. For the past five years, he has served as the assistant wrestling coach at his alma mater, Jackson Memorial High School.
The national scene for wrestling is starting to get back to normal this spring. In the past the spring has been littered with national level events and this week is no different with two big events going on. In Wisconsin there will be the UWW Cadet, UWW U15 and UWW Futures divisions and in Virginia Beach the NHSCA grade level nationals will be held. Indiana will have many representatives in each event.
Students across campus are gearing up for a strenuous week of studying for finals. This includes our wrestlers, who are continuously hard at work on and off the mat.
Illinois Director of Athletics Josh Whitman introduced Mike Poeta as the head coach of the Fighting Illini wrestling program on Thursday morning.
Our Big Ten correspondent Cody Goodwin joined us last night to talk about Mike Poeta's assuming the head coaching role at his alma mater, the University of Illinois. Poeta was a two-time NCAA runner-up and has served on previous head coach Jim Heffernan's coaching staff since the 2017-18 season.