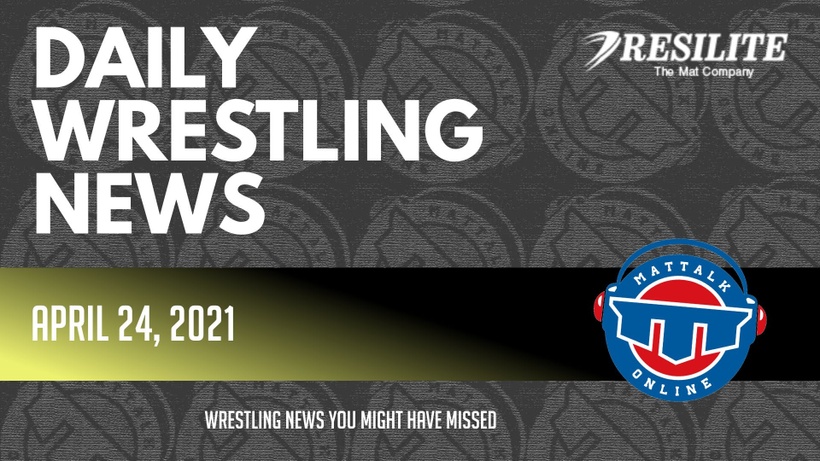 There's a lot of wrestling news out there you don't normally see, because it's not really centralized, so that's where the Mat Talk Online Daily Wrestling News has come into play. Each day, content is curated and put together for a morning e-mail newsletter that will arrive at approximately 6 a.m. Central at least five days a week. Not interested in getting another e-mail? Read the news you might have missed from around the world. Some news might be related to other sports but has a connection to wrestling, that's why you'll sometimes see those here as well.
Get this delivered to your inbox daily by signing up at mattalkonline.com/news
When App State junior wrestler Jonathan Millner walked off the mat at this year's NCAA championship after earning prestigious All-American honors, he said the emotion that first overcame him was disappointment.
Lance Palmer, who won the $1 million featherweight prize in both 2018 and 2019, saw his 11-fight winning streak end in a lopsided decision loss to old collegiate wrestling rival Bubba Jenkins. And Natan Schulte, the lightweight champion in both of those years, dropped a much closer decision to who Marcin Held in his opening lightweight bout.
No spectators were allowed at the Sportowa COS Torwar stadium in Warsaw, but if they were, Kiryl MASKEVICH (BLR) and Riza KAYAALP (TUR) would have received the loudest cheer as both made it the finals of their respective weight categories in style.
The first day of action is done at the UWW Cadet and U15 Nationals, and the 2021 Cadet Greco-Roman World Team is set. The ten weight class winners will represent the U.S. at the World Championships in Budapest, Hungary this June.
It had been building throughout the quad. Perhaps longer, if you're willing to retrace the steps.
Top 8 Placewinners (All Results on Track)
When pandemic delayed 2020 Summer Olympics, Gray considered retirement. "I want to quit wrestling most days," she said. "I definitely had some moments where I did want to step away from the sport."
Just over a year ago, Shane Whitney was wrestling in the Virginia state finals.
Maccabi USA, the sponsor for American participation in the World Maccabiah Games is proud to announce that the trials for the 21st World Maccabiah Games wrestling team are scheduled for Sunday, October 17, 2021 in the Philadelphia area. A specific location for the event will be determined shortly.
In our first "Fan Podcast Friday" we talk to Jim Dutrow who started Wrestling Shirt a Day in May last year. We discuss why and how Jim started this movement and how it gained steam throughout May of 2020. He also shares some new wrinkles to this year's edition and recounts some fun stories from last May.
2012 Olympic champion and four-time World champion Jordan Burroughs represented the United States at 74 kg at the World Championships and Olympic Games every year since 2011. This year, he suffered his first World/Olympic Team Trials defeat, falling to two-time World champion at 79 kg Kyle Dake in the best-of-three championship series at the 2021 Olympic Team Trials in Fort Worth, Texas.
Joey McKenna's had an up-and-down path through senior-level wrestling. From reaching Final X to not qualifying for the World Team Trials to reaching the Olympic Trials finals, he's got an interesting path
The coaching search process to find Jim Heffernan's replacement as the leader of the Illinois wrestling program was different this time around for athletic director Josh Whitman.
On episode 95 of Mat Chat with David Mirikitani, David sits down with Gary Mayabb, the Manager of Greco-Roman Programs for USA Wrestling. Mayabb has been involved with the sport of wrestling for over 40 years, including as an athlete, as a D1 referee and as a coach. He joined the USA Wrestling staff in 2017.
Texas Woman's University has furthered its commitment to providing additional competitive opportunities for women within intercollegiate athletics, announcing Thursday that the university will launch an intercollegiate women's wrestling program beginning in the fall of 2022.