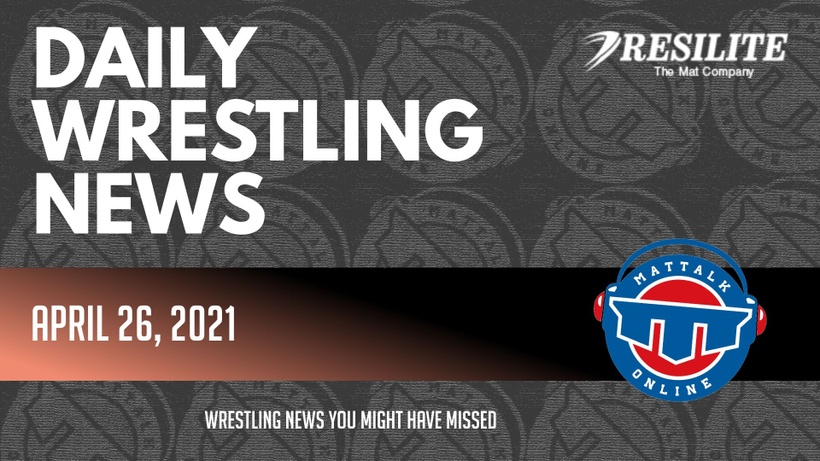 There's a lot of wrestling news out there you don't normally see, because it's not really centralized, so that's where the Mat Talk Online Daily Wrestling News has come into play. Each day, content is curated and put together for a morning e-mail newsletter that will arrive at approximately 6 a.m. Central at least five days a week. Not interested in getting another e-mail? Read the news you might have missed from around the world. Some news might be related to other sports but has a connection to wrestling, that's why you'll sometimes see those here as well.
Get this delivered to your inbox daily by signing up at mattalkonline.com/news

David Szuba Pins John O'Donnell in NJ Wrestling State Final – Shore Sports Network
In the final bout of the 2021 NJSIAA Wrestling Championships, Brick Memorial's David Szuba delivered one of the most emphatic state championship victories in Shore Conference history.
A former New Jersey middle school teacher who coached wrestling at multiple schools is facing more sex crime charges, authorities said.
Behind the ongoing debate over whether the University of Hartford should move its athletic program from Division I to Division III lies a university whose enrollment issues, exacerbated by the COVID-19 pandemic, threaten to undermine its future.
These are the 10 NHSCA finals worth going back and rewatching be it for their excitement and/or the level of wrestling they displayed.
The U15 Nationals wrapped up this afternoon with the men's freestyle finals. Four wrestlers doubled up, winning the freestyle tournament after earning Greco-Roman titles on Friday.
The U15 and UWW Cadet Nationals concluded this afternoon with the best-of-three Cadet Men's Freestyle World Team Trials finals. The winners will compete at the Cadet World Championship in Budapest, Hungary this July.
The Greco-Roman portion of the U15 Nationals concluded tonight with ten wrestlers earning titles. Tomorrow, the freestyle division kicks off, and the highest placers across both styles will earn spots on the U15 Pan Am Championship Team which will compete in Mexico City, Mexico in October.
Amit Dhankar will be sent to the World Olympic Qualifying tournament in Sofia to compete in the 74kg freestyle category. He replaces Sandeep Singh Mann.
For the first time since making his Olympic debut in 2012, Jordan Burroughs will not be representing the United States at the Summer Games.
Having repeatedly beaten Rio 2016 bronze medallist Sakshi Malik at home, the teenager from Haryana wants to make an impression at Tokyo 2020.
Steve Powell was demonstrating a jump rope drill during an Easton wrestling practice last month when he cracked a joke about his age and athletic ability.
Seven COVID-19 infections have been reported among the South Korean delegation which attended the Asian Wrestling Championships in Almaty earlier this month.
The scene was different Saturday. Normally, thousands of wrestlers, coaches and fans make the trip each winter to Jim Whelan Boardwalk Hall in Atlantic City for the prestigious individual state tournament
When Mike Poeta was introduced to the Illinois faithful as the new wrestling coach, he knew he had big shoes to fill. However, all early signs are pointing to the fact that Poeta was a fantastic hire for the future of the team.
Musa EVLOEV (RUS) is quickly establishing himself as one of the Greco-Roman greats around the world.
Normally, teams wait until the tournament finishes to click their group photos after they finish on the podium. But Saturday was not a normal day for Turkey and no one wanted to wait another day.
Nate Jesuroga is taking his wrestling talents to the world stage this summer.
Kamaru Usman dominated his fight the first time he faced Jorge Masvidal, but he wasn't thrilled because there were so many unanswered questions left. Masvidal had taken that fight on six days' notice and needed to cut 20 pounds to make weight.
One of the terrific traditions at the NJSIAA/Rothman Orthopaedics Wrestling Championships is when the 14 champs lineup for a group photo. While they are all together, the Outstanding Wrestler for the tournament is revealed.