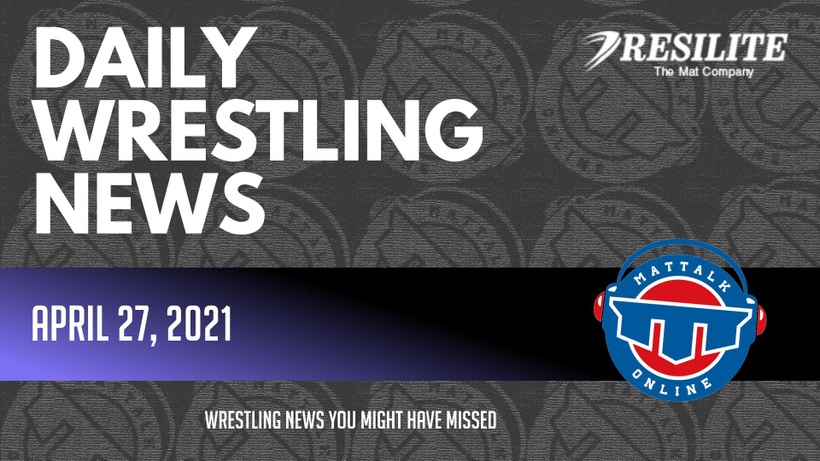 There's a lot of wrestling news out there you don't normally see, because it's not really centralized, so that's where the Mat Talk Online Daily Wrestling News has come into play. Each day, content is curated and put together for a morning e-mail newsletter that will arrive at approximately 6 a.m. Central at least five days a week. Not interested in getting another e-mail? Read the news you might have missed from around the world. Some news might be related to other sports but has a connection to wrestling, that's why you'll sometimes see those here as well.
Get this delivered to your inbox daily by signing up at mattalkonline.com/news

R.J. Mitte finds his wrestling inspiration in new movie Triumph | Mat Talk Podcast Network
R.J. Mitte's breakout role as an actor came with his portrayal of Walter White Jr. in the hit series Breaking Bad. Mitte's still been working as an actor and now the sport of wrestling has come to his front door in the new film Triumph, which gets released to 200 theaters nationwide on April 30.
Al and Josh discuss many topics including Cadet & U15 World Team Trials, NJCAA – RCTC non-scholarship National Champions, high school weight class changes, high school section realignment, MN#1, high school state/post-season, high school girls wrestling, Gable Steveson, and Joe Rau.
Senior Brett Kaliner of the Stevens Institute of Technology wrestling team was named Wrestling Senior Scholar-Athlete by the Middle Atlantic Conference, the league office announced Monday.
On Saturday, April 24th, the National Wrestling Hall of Fame, Minnesota Chapter held their 19th annual banquet and ceremony and inducted nine new members and honored two from the 2020 class who have contributed significantly to Minnesota Wrestling and beyond. The celebration was held at the Holiday Inn Conference Center in Austin, Minn.
Should the 2021 Cadet World Championships set for July in Budapest take place as planned, the United States will come locked and loaded with a fresh group of skillful, hungry competitors ready for the challenge.
Yianni Diakomihalis is a 2x NCAA Champion for Cornell University and is one of the best freestyle wrestlers in the country at 65kg. He recently took 4th at the 2021 Olympic Trials and will be gunning for his 3rd NCAA title during the 2021/2022 season. This interview took place four days before the 2021 Olympic Trials and was recorded for Tokyo Dreams, the 5-part vlog series that we produced.
With so many changes in the high school wrestling season this year, TheMat.com will research and publish, on a regular basis, an update on the 2021 state high school champions for both boys and girls.
Bo Bassett was thrilled to win the right to represent the United States in the Cadet Greco-Roman World Championships in Hungary, but that wasn't the main prize the Bishop McCort Catholic seventh-grader had his eyes set on in Wisconsin Dells, Wisconsin, this weekend.
A York-Adams League wrestler is a national champion.
College wrestler Olivia Rondeau told the Daily Caller that biological men don't belong on female wrestling teams, noting a biological disadvantage for female athletes.
UFC fighter Chris Weidman gave an update on the broken leg he suffered during his fight at UFC 261 this past weekend. On Monday, Weidman posted an Instagram video from a hospital bed, revealing he broke his tibia and fibula in his right leg after throwing a kick against Uriah Hall on Saturday in Jacksonville. He detailed the rehab process and when he can start training again.
Shortly afterward, the Santaniellos learned their grandmother Patty Santaniello – the mother of their father Vin Sr. – had passed away, according to an Instagram post by Vincent Santaniello Jr. Sunday.
Merrill students gathered today to honor their late coach's memory. The wrestling students ranging from elementary to high school met at Blue Jay Stadium, decked out in Merrill Wrestling apparel, to run 46 laps around the track representing Coach Jered Severt's 46 years of life.
A Rapid City Central High School Assistant Wrestling Coach has filed a lawsuit against Rapid City Area Schools.
Phillipsburg High School's head wrestling coach and another longtime math teacher at the Lopatcong Township school were arrested Monday and charged in a scheme where a threat was made to expose embarrassing information unless a school district official "took action consistent with their demands to influence a tenure vote," Warren County Prosecutor Jim Pfeiffer said Monday night.