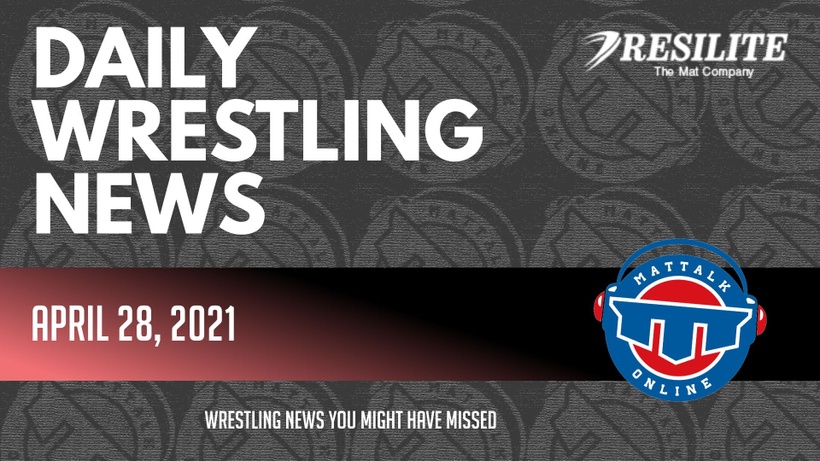 There's a lot of wrestling news out there you don't normally see, because it's not really centralized, so that's where the Mat Talk Online Daily Wrestling News has come into play. Each day, content is curated and put together for a morning e-mail newsletter that will arrive at approximately 6 a.m. Central at least five days a week. Not interested in getting another e-mail? Read the news you might have missed from around the world. Some news might be related to other sports but has a connection to wrestling, that's why you'll sometimes see those here as well.
Get this delivered to your inbox daily by signing up at mattalkonline.com/news
The field in the 57 kg UWW Junior bracket makes it the toughest bracket in contention in Coralville.
Wisconsin assistant Jon Reader reflects on his loss to Andy Rendos during the round of 12 at the 2010 NCAA tournament as a junior and an undefeated season in 2011.
The filing was signed by Paul Morina, the Paulsboro High School principal and wrestling coach who is also Hometown's CEO and chief financial officer.
Phillipsburg High School's head wrestling coach and another longtime math teacher accused of making a threat for a tenure vote have left police custody and are being placed on paid administrative leave, the district's business administrator said.
I'm not sure if any of you wrestling fans are soccer enthusiasts as well, but suffice to say, it's been a strange couple of weeks (and a public relations nightmare) in the soccer world.
Donning a NIACC blue and gold singlet has been a family tradition for the Minto family.
There's a cinematic masterpiece that was released in the 90's titled 'Billy Madison' where the main character pleads with children to stay in school, "stay as long as you can." Looks like some Lopers are taking that advice.
Student athletes at Stanford University are demanding the school reinstate 11 sports after the school announced the sports would be dropped.
The USA Wrestling Futures Nationals took place last weekend alongside the UWW U15 and Cadet Nationals. The Futures Nationals were open to wrestlers born between 2009-2011 and featured brackets in both men's freestyle and Greco-Roman.
The 2021 international wrestling season features both an Olympic Games in Tokyo and a Senior World Championships in Oslo during the same year.
How many wrestlers hear their coach bark at them every day at some point, maybe many points, during practice : "You gotta work hard every day to be the best!"?
One. More. Year. A college wrestling career that started in 2015 will continue for Central Oklahoma's Heath Gray in 2021-22, with this year's 184-pound national champion having decided to take advantage of the extra season of eligibility offered by the NCAA and return for a second senior campaign.
Less than a week after elevating Mike Poeta to the head coach of Illinois' Fighting Illini the program received their first win on the recruiting trail.