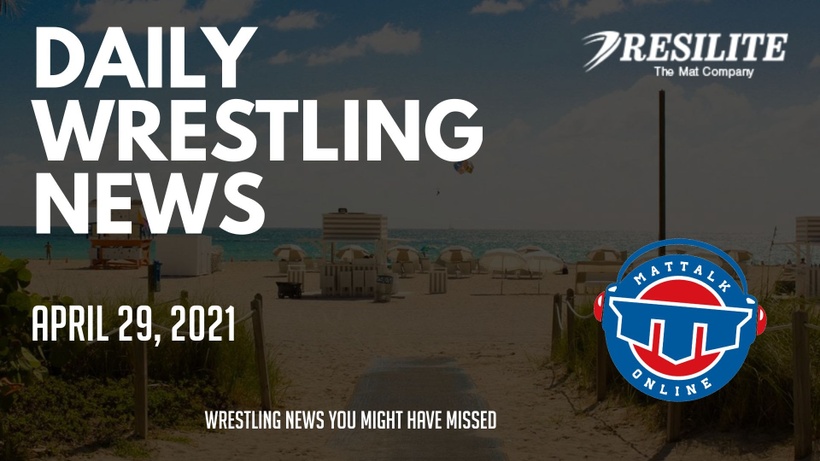 There's a lot of wrestling news out there you don't normally see, because it's not really centralized, so that's where the Mat Talk Online Daily Wrestling News has come into play. Each day, content is curated and put together for a morning e-mail newsletter that will arrive at approximately 6 a.m. Central at least five days a week. Not interested in getting another e-mail? Read the news you might have missed from around the world. Some news might be related to other sports but has a connection to wrestling, that's why you'll sometimes see those here as well.
Get this delivered to your inbox daily by signing up at mattalkonline.com/news
Bo Bassett, a Bishop McCort Catholic seventh-grader, has been selected as USA Wrestling Athlete of the Week.
Members of Connecticut's women's rowing team filed a federal lawsuit on Wednesday, alleging UConn's plan to eliminate their program as part of budget cuts in the athletic department violates their civil rights.
Local high school wrestling programs will take to the mats this week for the beginning of a shortened COVID-19 season.
Bill Swink planned to work two more years as the Spotsylvania High School athletic director.
The VMI wrestling team honored its 2020-21 award winners Thursday night at the annual awards banquet. Four Keydets were recognized
There has been a tendency for people to believe that the older a wrestler gets, the more likely the athlete will compete in only one international style.
The New York City Regional Training Center is proud to announce the hiring of Emma Randall as Head Coach of the NYC RTC women's wrestling program.
Yahya Thomas is a 2019 Junior World Team member and Northwestern wrestler, who is also a practicing Muslim. In several situations, he has had to train and compete while observing Ramadan, a holy month in the Islam calendar, which requires fasting from sun up to sun down.
Olympian Robby Smith joins Reattack for a baby Cooper update, Joe Rau Saga, and America's chancing in Greco qualifying at the last chance qualifier. Plus a new segment called Award Stand!
A beloved Rapid City wresting coach, COVID-19 regulations, a contested suspension and alleged constitutional violations have coalesced into a lawsuit against the school district, which has decided not to renew the entire coaching staff's contracts.
With the 2020-21 academic year coming to a close soon, the Purdue wrestling program remains buzzing with activity.
Two years ago, as a sophomore on Liverpool's wrestling team, Damiana Racciatti stood in the center of the wrestling mat and the referee raised her arm in the air. Racciatti had won her first high school wrestling match.
Utah Valley University head wrestling coach Greg Williams has announced the hiring of two-time collegiate All-American and four-time Utah State Champion wrestler Jason Chamberlain to his coaching staff.
India's freestyle wrestlers hoping to seal their Tokyo quota at the World Olympic wrestling qualifiers in Bulgaria were denied permission to board a flight out of New Delhi on Wednesday.
Nebraska's lower weights get a boost with the return of Liam Cronin and Chad Red, while Caleb Licking will not return
As happened everywhere, the novel coronavirus hit the sports world, causing the postponement of many major tournaments and negatively affecting the performance of several athletes.
It's been a whiplash couple of days for Phillipsburg wrestling — days that could have an impact on the program for years to come.
Marckis Branford enjoys everything about the West Coast so much he may well stay there for another year. Well, almost everything. "I definitely don't like the rain," said the 2019 Wilson graduate.
Brennan Swafford has spent the last two seasons dominating NAIA wrestling, but is now taking his talents to the NCAA Division I level.
When The Stanford Review learned that a massive protest event with hundreds of people would take place on campus today, we felt that we had to be there to get the facts.
Bruce Baumgartner, a two-time Olympic champion, four-time Olympic medalist, three-time World champion and 13-time World-level medalist made an appearance at the U.S. Olympic & Paralympic Museum in Colorado Springs on April 9, 2021.
On the fifth edition of Head's Up – A USA Wrestling Coaches Council Podcast, Mike Hagerty and Mike Clayton speak with Jen Baldwin and Chris Ayres, two of the driving forces behind the recently conducted Greg Strobel "Make a Weight Challenge", which resulted in over $20,000 raised and 640 pounds lost.
Coming off three straight ACC Championships, the NC State wrestling team will add yet another highly regarded recruiting class to add into the mix for the 2021-22 collegiate season.