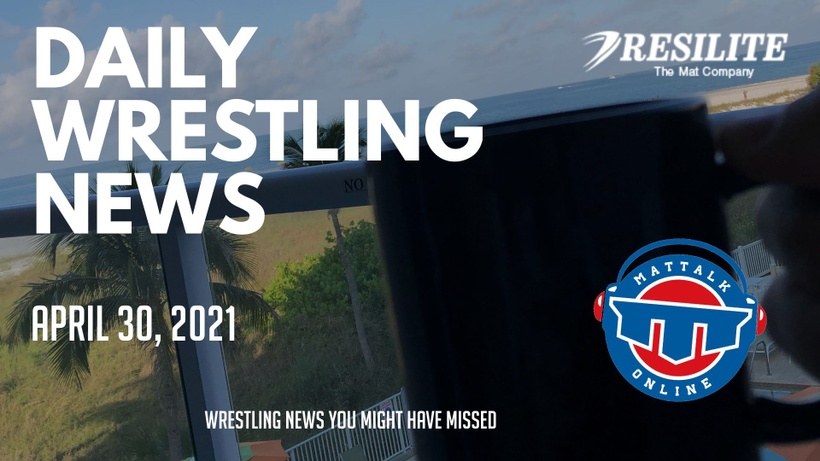 There's a lot of wrestling news out there you don't normally see, because it's not really centralized, so that's where the Mat Talk Online Daily Wrestling News has come into play. Each day, content is curated and put together for a morning e-mail newsletter that will arrive at approximately 6 a.m. Central at least five days a week. Not interested in getting another e-mail? Read the news you might have missed from around the world. Some news might be related to other sports but has a connection to wrestling, that's why you'll sometimes see those here as well.
Get this delivered to your inbox daily by signing up at mattalkonline.com/news
The final qualification event for the Tokyo Olympic Games, the World Olympic Games Qualifier, kicks off next Thursday (May 6-9) in Sofia, Bulgaria, and is set to welcome 474 athletes from 84 different nations.
Mark Branch was a two-time NCAA champion (1994 and 1997) and a four-time NCAA championship finalist (1994-97) for Oklahoma State head coach John Smith.
This has been a tough year for wrestling events, but National Preps is happening anyway. The 2021 version is an open tournament, and while it won't look quite the same as normal, we'll still have plenty of the country's top talent.
When scholastic wrestlers step away from folkstyle, the style of the sport used in U.S. scholastic and college matches, and into the two international/Olympic disciplines, it's probably fair to say most concentrate on freestyle over Greco-Roman.
Five Point Move is proud to host USA Greco-Roman National Team head coach Matt Lindland each week for Coach Lindland's Report.
"If you solve a problem for a customer you earn more loyalty and then they come back for more," says Doug Waggoner, CEO of Echo Global Logistics.
The National Wrestling Hall of Fame was saddened to learn that Michael Collins, honored by the National Wrestling Hall of Fame as an Outstanding American in the Charter Class of 1992, passed away on Wednesday, at the age of 90.
Oregon State head coach and Beaver Dam RTC president Chris Pendleton announced on Thursday the addition of 2018 Senior World bronze medalist Mallory Velte and 2018 U23 World bronze medalist Alexandria Glaude to its athlete roster.
Over the years, I have seen many wrestling t-shirts bearing questionable to ludicrous expressions. Like, "Men Wrestle, Boys play Basketball".
The Ohio State wrestling team held it's end of the season banquet this week and handed out its team awards. Below are the recipients.
It's no secret that Penn State is home to a diverse spread of elite, collegiate wrestlers – but that's only the tip of the iceberg.
Brown University wrestling will welcome eight freshmen to the program for the start of the 2021-22 season as part of the Class of 2025, Brown head coach Todd Beckerman announced on Thursday.