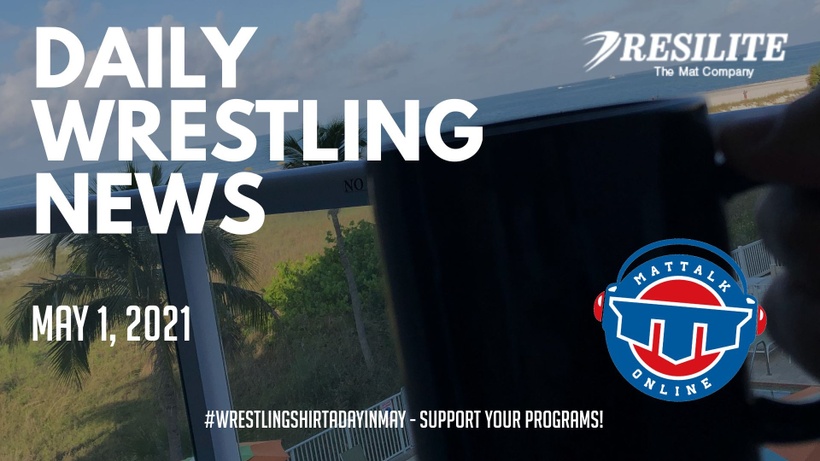 There's a lot of wrestling news out there you don't normally see, because it's not really centralized, so that's where the Mat Talk Online Daily Wrestling News has come into play. Each day, content is curated and put together for a morning e-mail newsletter that will arrive at approximately 6 a.m. Central at least five days a week. Not interested in getting another e-mail? Read the news you might have missed from around the world. Some news might be related to other sports but has a connection to wrestling, that's why you'll sometimes see those here as well.
Get this delivered to your inbox daily by signing up at mattalkonline.com/news
The 2021 U.S. Junior World Team was set during an exciting championship series finals on Friday at Xtream Arena.
Nick Boykin of the Sunkist Kids was the only repeat champion at the Senior Nationals in Greco-Roman, which completed on Friday night at the Xtream Arena.
A final chance to make the Olympic cut at stake, India's wrestlers have finally landed in Sofia, Bulgaria for the World Qualifiers starting May 6 after missing an earlier scheduled flight because of the travel ban on the country.
Final Days on Earth premiered on April 20 and focuses on Dammion Heard, a college wrestler who vanished after a party in 2014 in Gunnison, Colorado. After a six-month investigation, Gunnison Police ruled Heard's death a suicide, but his friends and family have always wondered if foul play was involved.
Book Club Claire is BACK for our discussion of Foxcatcher: The True Story of My Brother's Murder, John du Pont's Madness, and the quest for Olympic Gold by Mark Schultz with David Thomas.
Douglas E. Parker, Jr was called to Heaven on April 25th. As a professor/Coach, he dedicated his life to helping his students/wrestlers find success in spirit and life by realizing their potential.
Wayne Eric Boyd, 74, of Sky Valley was sentenced to two years in state prison earlier this month, and remains in county custody at the John Benoit Detention Center in Indio pending transport to a state facility.
The film tells the story of an aspiring high school wrestler with cerebral palsy.
Porter said Bazemore is a dream to coach — she's respectful, follows instructions without question and is competitive at all times.
Gabe Elias remembers getting the letter in the mail in the summer of 2019.
Austin Vanderford is excited to finally lock horns with Fabian Edwards.
After venturing on 33 different flights that spanned across six states, Jacob Christensen wasn't going to let a missed senior season impede his progress.
All the talk has been about how this version of the US Nationals is a little strange, but any lingering feelings of weirdness were washed away soon after action began this morning inside of the Xtream Arena.
In total, 15 athletes went undefeated in this morning's Senior Women's session; all but the 76 kg weight class are in round robins.
The finals have been set for the 2021 UWW Junior Greco-Roman Nationals, which began today at the Xtream Arena.
The finals have been set at the Senior National Greco-Roman Championships, held at Xtreme Arena on Friday.
In episode 96 of Mat Chat with David Mirikitani, David sits down with Iowa's Associate Head Coach Terry Brands, a two-time World champion and Olympic bronze medalist. David and Terry reflect on the Hawkeye's title-winning season and the future of the program.
Eleven Canadians are set to step on the mats next week with their sights set on the Olympic Games.