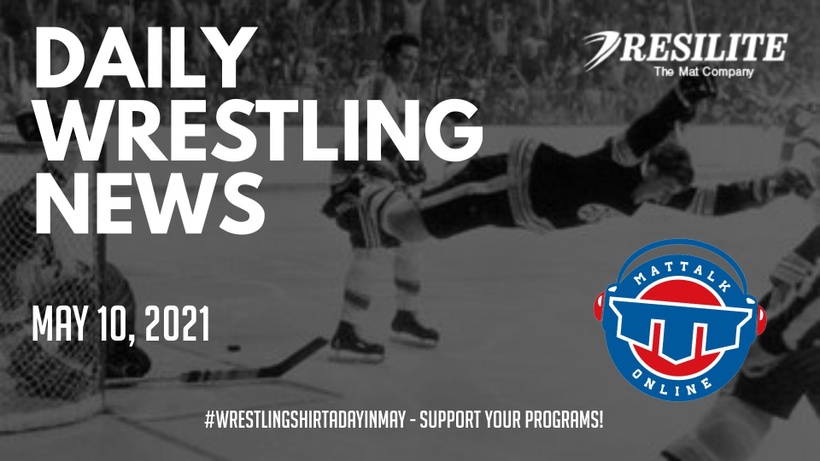 There's a lot of wrestling news out there you don't normally see, because it's not really centralized, so that's where the Mat Talk Online Daily Wrestling News has come into play. Each day, content is curated and put together for a morning e-mail newsletter that will arrive at approximately 6 a.m. Central at least five days a week. Not interested in getting another e-mail? Read the news you might have missed from around the world. Some news might be related to other sports but has a connection to wrestling, that's why you'll sometimes see those here as well.
Get this delivered to your inbox daily by signing up at mattalkonline.com/news
Patrons, get access to the @mattalkonline Discord server to talk wrestling with fellow patrons and fans
https://discord.gg/24yNZKtS (Link expires May 14)
It was one of the toughest decisions Methuen senior Anthony Romano has ever made. A couple of weeks ago, he opted to finish his brilliant high school career by participating in spring wrestling, which had been postponed from the winter due to the coronavirus pandemic, rather than lacrosse.
Wrapping up an exciting weekend of competition at the 2021 Women's Nationals in Irving, Texas, the U.S. U23 women's freestyle team is set with 10 ladies snagging spots on Sunday afternoon.
The 2021 U.S. U15 Pan American Team has been decided after an exciting finals session on Sunday afternoon in Irving, Texas.
The World Olympic Games Qualifier completed on Sunday with the repechage and medal matches all six Greco-Roman Olympic weight classes.
To celebrate Mother's Day, InterMat sat down with five prominent mothers in the wrestling community, Allyson Schwab, Kaille Grey, Lyndsey Beasley, Jaime Dubuque, and McKayla Engel.
The USA has its Cadet World Team in women's freestyle as 10 young ladies emerged victorious on Saturday night at the 2021 Women's Nationals in Irving, Texas.
COMMENTS The United States had two candidates ready for the World Olympic Qualifier in Bulgaria, and both athletes were up for the task.
There's going to be a pretty big hole in the middle of the Wisconsin Badgers lineup in 2021-22. Two-time All American Evan Wick decided to enter the transfer portal and pursue a new school for his final year of eligibility.
A prominent South Korean wrestler has tested positive for the new coronavirus, dashing hopes of competing in the Tokyo Olympics scheduled for this summer.
The last time David Taylor visited Tokyo was in high school. Taylor, then a junior at Graham High School, was on his way to a U.S. Junior World Team event in China and had a rather unremarkable 12-hour layover.
Days after a 23-year-old former junior national champion, Sagar Rana, was beaten to death during a brawl at the Chhatrasal Stadium parking area, the victims injured in the clash recorded their statements before Delhi Police and claimed that two-time Olympic medalist Sushil Kumar was involved in the incident.
It only took six years, but Kyven Gadson finally has his ice cream, and so can everyone else.
Sumit Malik became the seventh Indian wrestler to qualify for the Tokyo Olympics on Thursday, when he reached the final of the Men's 125kg Freestyle at the ongoing World Wrestling Olympic qualifiers in Sofia, Bulgaria.
Nick Curley has been wrestling for so long he can't even pinpoint exactly why he does it. As much as anything, the sport has become an unconscious habit for the Burlington teen.
After appearing in two Olympics for his native Georgia, Zurabi DATUNASHVILI (SRB) will now get to represent his adopted country of Serbia. It took a victory over the defending Olympic champion to do it, and one that also spoiled Russia's perfect record in qualifying.
With Olympic quotas safely secured, the three Russian wrestlers at the World Olympic Qualifiers in Sofia, Bulgaria were ready to clinch the three gold medals as well.
It was a full weekend of wrestling for many of Iowa's top competitors.
Phil Hawes is 3-0 in the UFC after his win at UFC Vegas 26. Hawes was victorious via unanimous decision over Kyle Daukaus at the end of three rounds.
A bold and until very recently unthinkable description of the USA Mens FS team, but one that may very well prove accurate. We Americans head to Tokyo with World Champions/World medalists at all but 1 wt class.
Augsburg University women's wrestler Emily Shilson (SO, Maple Grove, Minn./Mounds View HS) won another pair of amateur wrestling national titles over the weekend, claiming the 50-kilogram (110 pounds) titles at the USA Wrestling/United World Wrestling Women's Junior Nationals on Friday, and the USAW/UWW U23 Women's World Team Trials on Sunday, both at the Irving Convention Center.