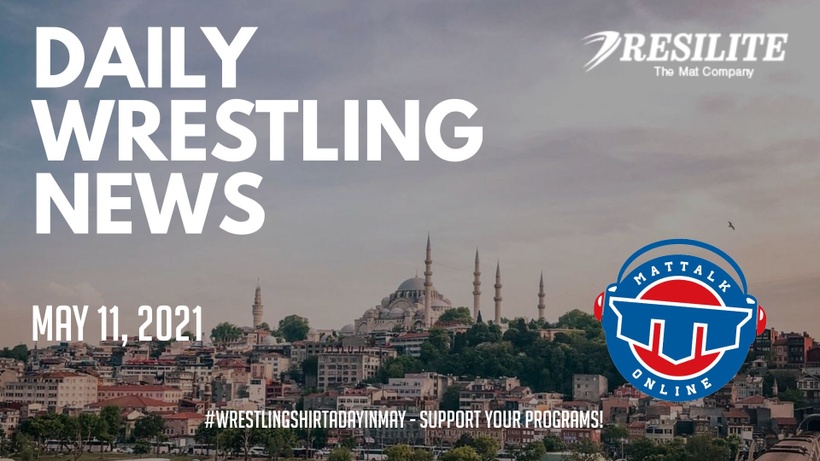 There's a lot of wrestling news out there you don't normally see, because it's not really centralized, so that's where the Mat Talk Online Daily Wrestling News has come into play. Each day, content is curated and put together for a morning e-mail newsletter that will arrive at approximately 6 a.m. Central at least five days a week. Not interested in getting another e-mail? Read the news you might have missed from around the world. Some news might be related to other sports but has a connection to wrestling, that's why you'll sometimes see those here as well.
Get this delivered to your inbox daily by signing up at mattalkonline.com/news
Patrons, get access to the @mattalkonline Discord server to talk wrestling with fellow patrons and fans
https://discord.gg/24yNZKtS (Link expires May 14)
At the peak of his prowess, Sushil Kumar single-handedly lifted Indian wrestling to unprecedented heights but as police looks for him in relation to a murder case, the sport's image has taken as much a beating as that of the trailblazing grappler.
Here's how to watch the 2021 AAU Scholastic Duals on FloWrestling. The 2021 AAU Scholastic Duals starts on Jun 16, 2021 and runs until Jun 21, 2021.
Ethan Slaybaugh died Saturday, according to a letter distributed Sunday by the Upper Adams School District. He would have begun his senior year this fall.
Asingle-car crash Friday in Botetourt County has killed a two-time Virginia High School League wrestling state champion.
Jared Crippen was full of energy, he was the life of any party, loved sunrises, sports, family, friends and those who many people ignored or overlooked, they were special to him, they were all his friends and yours too.
MINNEAPOLIS – The Minnesota State High School League will be voting Tuesday to determine if boys volleyball and girls wrestling will be high school sports as early as the 2021-22 academic year.
"It went great," was the response from Geneseo High School Varsity Wrestling Coach Jon Murray when asked about holding the first meet of the season on the Bob Reade Football Field.
But once wrestling got up and running, there were no cases or stoppages related to COVID for Drexel's team, which also sent six wrestlers to the NCAA tournament.
Perhaps the biggest name in the transfer portal is off the market! 2019 NCAA runner-up Max Dean will transfer to Penn State, as confirmed by his older brother Gabe on Chael Sonnen's "Beyond the Fight" podcast today.
The process required 20 months to complete, eight more than were originally planned.
Japanese wrestlers are set to compete in 12 of 18 categories at this summer's Tokyo Games, including all six women's weight classes, following the conclusion Sunday of the final world Olympic qualifier in Bulgaria.
The 2021 U.S. Olympic wrestling team is one of the most star-studded groups to ever represent the country on the international stage. The lineup includes Olympic champions, world champions, NCAA champions, WCWA champions and future stars.
When the #FantasyCollegeWrestling season comes to an end, it's usual to feel like you need a break. I get it; even WE took a little time for some needed R&R (fear not, though, the FCW Podcast returns later this month!). The amount of work and game planning is exponentially higher than Fantasy Football or other sports.
Below is a complete list of wrestling qualifiers for the 2020 Tokyo Olympic Games, as of May 9. The list includes a review of all three disciplines combined, but is also broken down by individual style and weight class. In addition, total number of qualifiers per nation is included.
The 48-member Representative Assembly legislative body of the Minnesota State High School League is scheduled to meet on Tuesday, May 11 in a virtual format at 9 a.m. Included in its agenda is the consideration of proposed amendments to add the sport of Boys Volleyball and a Girls Wrestling postseason division to the League's programming of co-curricular opportunities.