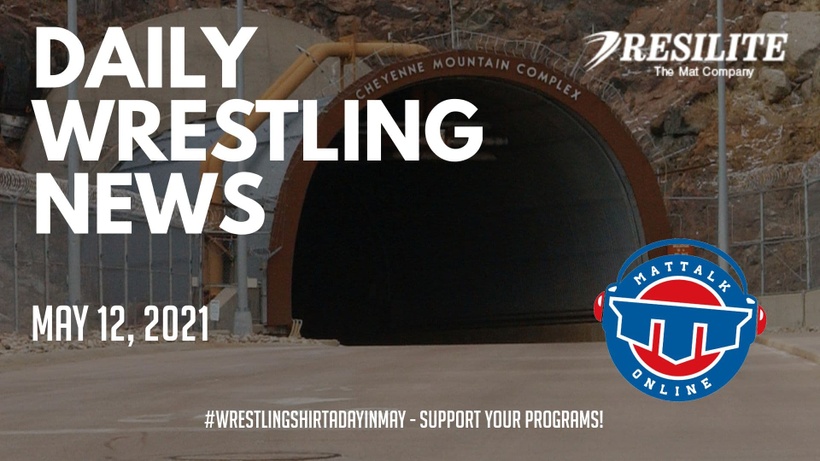 There's a lot of wrestling news out there you don't normally see, because it's not really centralized, so that's where the Mat Talk Online Daily Wrestling News has come into play. Each day, content is curated and put together for a morning e-mail newsletter that will arrive at approximately 6 a.m. Central at least five days a week. Not interested in getting another e-mail? Read the news you might have missed from around the world. Some news might be related to other sports but has a connection to wrestling, that's why you'll sometimes see those here as well.
Get this delivered to your inbox daily by signing up at mattalkonline.com/news
On this date in 1958: US & Canada form North American Air Defense Command (NORAD)
Patrons, get access to the @mattalkonline Discord server to talk wrestling with fellow patrons and fans
https://discord.gg/24yNZKtS (Link expires May 14)
Dutrow, a Virginia native and former college wrestler at some school in Harrisonburg that also dropped wrestling, launched the initiative as a way to recognize schools with wrestling and thank them for their support.
McIlravy reflects on the collection of losses that prevented him from becoming a four-time NCAA champion, a World champion, or an Olympic champion.
Olympic medallist wrestler Sushil Kumar is in the news for all the wrong reasons
Brandon Green is coming home to Paulsboro High School next month. One of the all-time greatest wrestlers in one of the state's most storied programs, Green returns to his alma mater as a wrestling counselor when Virginia Tech holds an instructional camp next month.
De Soto High School senior Jaycee Foeller has been cheerleading for as long as she can remember. Her two younger brothers have been wrestling for as long as they can remember.
During his 29 seasons as Triton College's head wrestling coach, Harry McGinnis had to get "down and dirty" on the mat to show his athletes the right techniques and mental toughness all rolled up into one.
In a matter of mere minutes Tuesday morning, the Minnesota State High School League dealt one high school sports advocacy group a serious blow while answering the hopes of another.
In his junior season, Lake Epperson took part in several state championship teams. Last week, he decided to take his wrestling talents to Life University in Atlanta, Georgia as he signed with the NAIA National Championship Wrestling team.
A Girls Wrestling Division during the postseason was approved today when the 48-member Representative Assembly legislative body of the Minnesota State High School League met for its annual meeting. In other action, the Representative Assembly fell two votes short of approving the addition of Boys Volleyball as a League-sanctioned activity
John Smith talks about the 1992 Olympics, Pat Smith and the beginning of his coaching career in this never before released episode. This interview was recorded in October of 2020 and is the third and final interview that we recorded with John as part of our audio documentary series, The Smiths.
Sun Devil Wrestling head coach Zeke Jones, Sun Devil Hockey head coach Greg Powers and Sun Devil Women's Golf head coach Missy Farr-Kaye began their Sun Devil experiences as undergraduates at Arizona State University over twenty years ago.
Oklahoma State freshman Jakason Burks has announced via Twitter he's entering the transfer portal.
USA Wrestling is regularly publishing a list of sanctioned events as our nation and our sport comes back from the COVID-19 pandemic.
After having eight student-athletes sign a National Letter of Intent to continue their athletic and academic careers at Augustana in the fall, head coach Jason Reitmeier announced the signings of four more student-athletes Tuesday morning. The class of 12 Viking wrestlers will enroll as freshmen in the fall of 2021.
The round of 32 has been completed in USA Wrestling's interactive 32-athlete bracket featuring the best Men's Junior Freestyle competitors of the last 50 years of the Junior Nationals., with the round of 16 pairings set and voting underway.
Before I knew much about wrestling, I would spend most of the dual looking in the stands in awe of the spectator's reactions
UNI Director of Athletics David Harris has announced the signing of a contract extension for head wrestling coach Doug Schwab through the 2027-28 season.