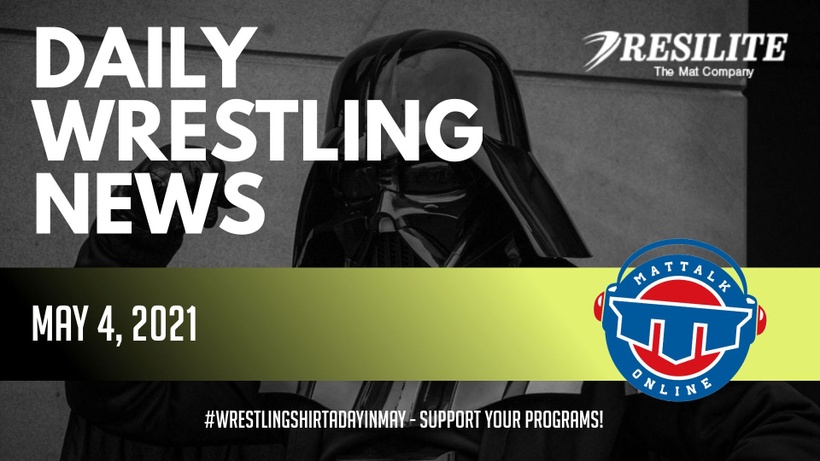 There's a lot of wrestling news out there you don't normally see, because it's not really centralized, so that's where the Mat Talk Online Daily Wrestling News has come into play. Each day, content is curated and put together for a morning e-mail newsletter that will arrive at approximately 6 a.m. Central at least five days a week. Not interested in getting another e-mail? Read the news you might have missed from around the world. Some news might be related to other sports but has a connection to wrestling, that's why you'll sometimes see those here as well.
Get this delivered to your inbox daily by signing up at mattalkonline.com/news
Stratford's Nico Provo won his second national tournament in less than two weeks by capturing the 2021 National Prep School Open tournament in Wilkes-Barre, Pa., on Monday.
Steffel is also a former BOLD High School varsity wrestling coach and is still listed on school's website. BOLD Principal James Menton said Steffel is not currently employed at the school because his coaching contract was only over the winter and has to be renewed on an annual basis.
The University of Minnesota under J Robinson came close to winning an NCAA team title in 1999 after years of nearing the summit.
IU wrestling's 2020 freshman class dealt with a season like no other this year. Head coach Angel Escobedo said this class missed out on a lot because of the COVID-19 pandemic, but the team showed resilience and heart in the face of it.
Qualifying for the Games can be the achievement of a lifetime. In the coronavirus era, though, that opportunity can vanish without warning.
This coming Saturday ushers in the World Olympic Games Qualifier, known colloquially as Last Chance (not to be confused with the Olympic Trials' selection process). Wrestling begins at 10:00am (3:00am ET) live from Sofia, Bulgaria and the event will stream in the US on FLOWrestling.
USA Wrestling's Executive Committee has approved a revision of the qualification standards for the 2021 USA Wrestling Junior and 16U Nationals in Fargo, N.D., July 16-23.
On Monday, the National Wrestling Coaches Association announced the 2021 Scholar All-American individual honorees for NCAA Division III with awards going to 413 individuals representing 84 institutions.
Mississippi is the only US State without high school wrestling. Brian Fox is looking to change that. Over the past year, Brian created the Mississippi Wrestling Federation and has been instrumental in creating a wrestling culture in Mississippi. Before Brian's efforts, just two high schools had wrestling.
USA Wrestling is regularly publishing a list of sanctioned events as our nation and our sport comes back from the COVID-19 pandemic.
Lifelong Bakersfield residents, Vernon and Janis Varner have committed $125,000 over five years to CSU Bakersfield athletics. The gift will establish the Vernon & Janis Varner Wrestling Scholarship at CSUB, and aid Roadrunner scholar-athletes in the pursuit of their goals both on the mat and in the classroom.
Columbia University and Columbia Athletics celebrated the commencement of its 267th academic year on Friday morning with its second consecutive virtual graduation ceremony. For the second straight year, the historic ceremony was conducted virtually due to COVID-19 public constraints.
Siena Heights University athletic director Sue Syljebeck has announced Derrik Marry as the new men's wrestling coach. Marry is the second coach of the program since it was reinstated for the fall of 2020 after a 30-year hiatus.
Head coach Danny Irwin and his record-setting West Liberty University wrestling team celebrated their unforgettable season with the annual Awards Banquet at the Wild Wild West Restaurant and Sports Bar.
Shippensburg University wrestling alumnus Evan Ramos '18 is in Sofia, Bulgaria this week to compete in an Olympic qualifier.
Lauren Mason was attracted to Simon Fraser University from California to compete for the women's wrestling program and to study abroad, and through that process she has discovered so much about herself.