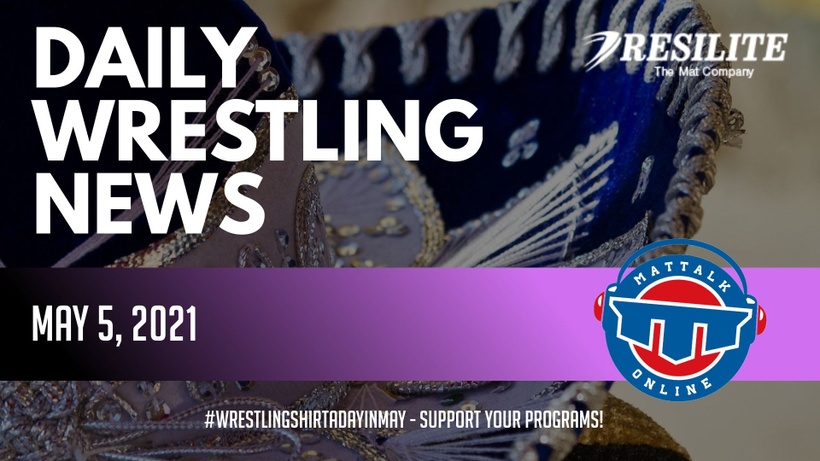 There's a lot of wrestling news out there you don't normally see, because it's not really centralized, so that's where the Mat Talk Online Daily Wrestling News has come into play. Each day, content is curated and put together for a morning e-mail newsletter that will arrive at approximately 6 a.m. Central at least five days a week. Not interested in getting another e-mail? Read the news you might have missed from around the world. Some news might be related to other sports but has a connection to wrestling, that's why you'll sometimes see those here as well.
Get this delivered to your inbox daily by signing up at mattalkonline.com/news
The most honored piece of sports turf in Tucson isn't McKale Center or Tucson National or Hi Corbett Field. It's the wrestling room at Sunnyside High School.
Alli Ragan is coming back to Iowa. Ragan, a two-time world medalist for USA Wrestling women's freestyle team, has joined the Grand View women's wrestling coach staff. She'll be a graduate assistant, joining head coach Angelo Crinzi and assistant coach Arelys Valles.
As of the last weekend in April and a scant few months prior to Tokyo 2021 our Greco Roman team has qualified four of six wt. classes for the Games.
You may know Logan Paul as one of the largest social media influencers on the planet today with millions upon millions of followers on Twitter, Instagram, and YouTube. But, did you know he was a wrestler? Yes, that's right! Before he and his brother, Jake Paul, were dominating the boxing ring, Logan was actually dominating kids on the mat.
Some high school students may get the chance to wrestle this spring in Massachusetts and Rhode Island but athletes will have to compete with masks.
How appropriate that in a season peppered with so many firsts, our Rookie of the Year underwent on an individual level a multitude of firsts himself, many of them because he was a true freshman with no college experience.
After winning the U.S. Olympic Team Trials – Wrestling, April 2-3, veteran star Jordan Oliver of the USA knew that he still had one more huge hurdle ahead of him in order to achieve his dream of competing in the Olympic Games.
Senior Nationals for women's freestyle (WFS) may have been short in numbers this year, but that doesn't mean we didn't get to see some great wrestling!
Saul, the third youngest of the Ervin family, was born in Morganfield, Kentucky, where he continued the Ervin legacy at Union County High School.
The 2021 UCO Athletics Male Student-Athlete of the Year is Heath Gray, a senior on the Broncho wrestling team.
After a record setting first year at the helm, Campbell's Scotti Sentes has been named Rookie Head Coach of the Year by Amateur Wrestling News.
Senior Sebastian Rivera will wrestle this week at the World Olympic Games Qualifier for a chance to secure his spot at this summer's Tokyo Olympics as a member of Team Puerto Rico.
The University of Jamestown is pleased to announce that Jim Zalesky is the new men's wrestling head coach. A member of the National Wrestling Hall of Fame, Zalesky brings a track record of success to the University of Jamestown.