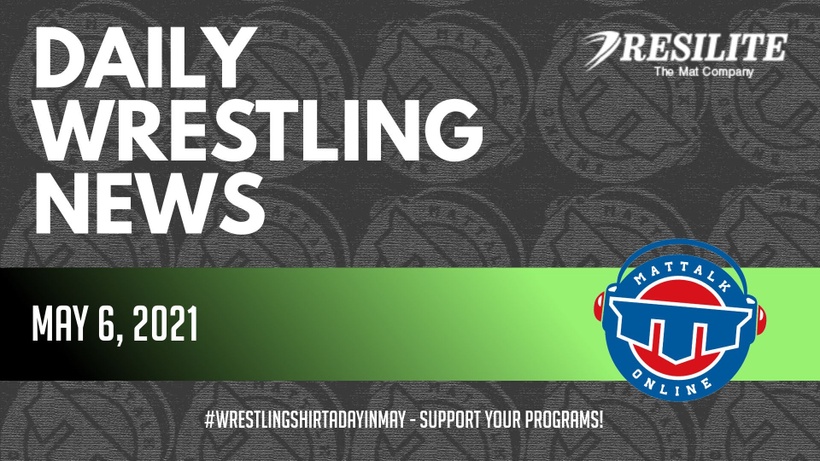 There's a lot of wrestling news out there you don't normally see, because it's not really centralized, so that's where the Mat Talk Online Daily Wrestling News has come into play. Each day, content is curated and put together for a morning e-mail newsletter that will arrive at approximately 6 a.m. Central at least five days a week. Not interested in getting another e-mail? Read the news you might have missed from around the world. Some news might be related to other sports but has a connection to wrestling, that's why you'll sometimes see those here as well.
Get this delivered to your inbox daily by signing up at mattalkonline.com/news
According to Additional DCP (north-west) Dr Guriqbal Singh Sidhu, police found that a quarrel had allegedly taken place between Sushil Kumar, Ajay, Prince, Sonu, Sagar, Amit and others in the parking area of the stadium.
Women's Nationals are here, or as some call it "Not-Body-Bar"— a reference to the moniker that identified the event for years.
Longtime sports journalist Ann Killion of the San Francisco Chronicle joins the Short Time Wrestling Podcast to talk about the situation at Stanford. Now a columnist after impressive career stops at the Los Angeles Times, San Jose Mercury News and Sports Illustrated, Killion's job is to offer her perspective on topics in and around sports and the Stanford drop of 11 sports definitely got her attention.
Rio 2016 gold medallist Vladimer Khinchegashvili has been ruled out of this week's United World Wrestling World Olympic Games qualifier for Tokyo 2020 after he tested positive for COVID-19.
Each twin has won three successive Louisiana state championships. As juniors, Evan won the Division I state title at 132 pounds and was named Outstanding Wrestler after his victory at the Louisiana Classic. Jacob won the D-I title at 138 pounds.
Body Bar is BACK! After a phenomenal 2019 turn out, we were so sad to see it cancelled last year due to everything COVID-19 related. But we're here and the tournament is this weekend, so that's all that matters!
Yesterday news broke that former Iowa and Oregon State head coach would be taking over the vacant position at the NAIA's University of Jamestown. Coach Zalesky tells us what was attractive about this job and coaching on the NAIA level and more.
While the mat competition may be the only actual sense of "normalcy" for Placer High School wrestling, everything surrounding the season has been anything but.
A Labadie man who is accused of statutory sodomy and furnishing pornographic material to someone younger than 18 will have two separate jury trials this fall, according to electronic court records. Both cases stem from charges that were filed in 2018.
Alton wrestling coach Eric Roberson calls the situation "strange." Normally starting in November, the Illinois wrestling season opened its seven-week schedule April 29, becoming the final sport to begin competition in the Illinois High School Association athletics calendar.
Erie County Health Commissioner Dr. Gale Burstein and County Executive Mark Poloncarz defended the county's recommendation that high school wrestling be delayed until Covid-19 infection rates have fallen further.
The 21st and 22nd four-time prep wrestling state champions in West Virginia history — Parkersburg South's Gavin Quiocho and East Fairmont's Blake Boyers — were runaway selections for the top two spots in the 37th annual Robert Dutton Award voting.
As the Mid-Eastern Athletic Conference (MEAC) continues to celebrate its 50th Anniversary during the 2020-21 academic year, the conference office now announces its Wrestling All-Time Team, Presented by the Home Depot.
One of the most anticipated matchups of the U.S. Olympic Wrestling Trials never happened, and J'den Cox's dreams of representing his country in Tokyo were dashed.
USA Wrestling has announced that the U23 National Championships for men will be held at the Bob Devaney Sports Center on the campus of the University of Nebraska – Lincoln in Lincoln, Neb., from Thursday, May 27 through Saturday, May 29.
James English began laying the foundation for Ravenna wrestling in 2010 and the program returned as a club-sport varsity team one year later.
It will be the last chance for India to secure record- Tokyo Olympic berth when 12 wrestlers across three divisions begin their campaign at the World Olympic Qualifiers in Sophia, Bulgaria.
Making the best of a bad situation and flipping the script is an admirable talent in any discipline, let alone sports.
Greco-Roman wrestlers Jesse Porter (Ballston Lake, N.Y./New York AC/Northern Michigan OTS) and Adam Coon (Ann Arbor, Mich./New York AC/Cliff Keen WC) have received their draws for the World Olympic Games Qualifier in Sofia, Bulgaria. Porter competes in the 77 kg bracket, while Coon wrestles at 130 kg.
Mount Nittany is a common site for the folks of State College, Pa., as the 2,077-foot geographic landmark is a nostalgic landmark for Penn State fans to admire and has served as a backdrop to Penn State's athletic legacy.
Jordan Oliver (Chapel Hill, N.C./Sunkist Kids/Tarheel RTC) has received his draw for the 65 kg men's freestyle competition at the World Olympic Games Qualifier in Sofia, Bulgaria.
Dominic Damon (67 kg, NMU/NTS) is not what you might describe as "wordy". He's not. Ask around. Damon is famous for his death-grip adherence to brevity. Shyness, maybe that's part of it. A tough sell, however. The tone in his voice is never, ever tense. Relaxed but purposeful would perhaps pose a more apt description of his conversational nuances.