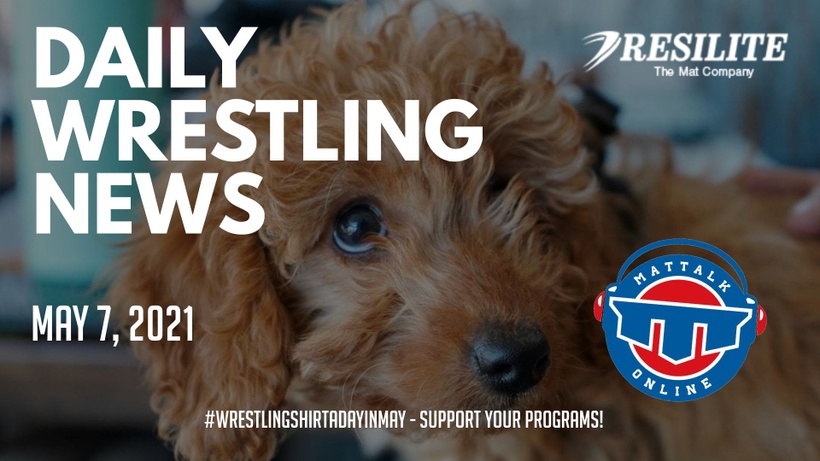 There's a lot of wrestling news out there you don't normally see, because it's not really centralized, so that's where the Mat Talk Online Daily Wrestling News has come into play. Each day, content is curated and put together for a morning e-mail newsletter that will arrive at approximately 6 a.m. Central at least five days a week. Not interested in getting another e-mail? Read the news you might have missed from around the world. Some news might be related to other sports but has a connection to wrestling, that's why you'll sometimes see those here as well.
Get this delivered to your inbox daily by signing up at mattalkonline.com/news
Patrons, get access to the @mattalkonline Discord server to talk wrestling with fellow patrons and fans
https://discord.gg/24yNZKtS (Link expires May 14)
A COVID-19 outbreak associated with a high school regional wrestling tournament held in Ketchikan in late April has now been linked to more than 20 coronavirus cases in five Southeast communities, health officials said this week.
An online petition calling for the Tokyo Olympics to be canceled has gained tens of thousands of signatures since being launched in Japan only days ago.
From the time he began his wrestling career, Sushil Kumar's destiny has been synonymous with New Delhi's Chhatrasal Stadium. His formal initiation to the sport began as a 14-year-old when he began training at the wrestling mud pit at this multipurpose stadium in North West Delhi's Model Town neighbourhood.
India's Greco Roman wrestler Naveen Kumar, who was set to compete in the World Olympic Qualifiers, has tested positive for COVID-19, forcing him to withdraw from the competition.
Sumit Malik becomes the seventh Indian wrestler to qualify for the upcoming Tokyo Olympics after reaching the final of the ongoing World Olympic Qualifiers in Sofia, Bulgaria.
J'den Cox has had a month to digest missing the weigh-in deadline at the U.S. Olympic Wrestling Trials, where he was one of the stars as a reigning Olympic medalist and two-time world champion.
Follow 103.7 The Buzz and others on SoundCloud.
Canton wrestling coach Zachary Crawford was understandably bummed when wrestling was moved to an eight-week "summer" season that did not include a postseason.
Michigan's top girls wrestlers will celebrate championships alongside the boys at the individual state finals beginning next year.
Sergei KOZYREV (RUS) assured that Russia would join Iran in sending a full freestyle team to the Tokyo Olympics, while Jordan OLIVER (USA) came up just short of adding the United States to that list.
If anyone in the UW-Parkside wrestling program cares to question the credentials of Nick Becker, then Becker needs only to point to a spot high on the wall of the Jim Koch Wrestling Center to prove himself.
While genetics determine an athlete's potential, nurturing innate abilities in the correct sequence determines how closely the athlete reaches peak potential.
Embracing its pioneering spirit, Sacred Heart University announced last fall that it would add the first varsity women's wrestling program in New England. On Thursday, SHU named Paulina Biega as the program's first head coach. She will be the first female NCAA Division 1 wrestling coach in the country.
The 2021 Women's Nationals is upon us! This weekend, Irving, Texas, will host over 1,000 female wrestlers as they vie for national titles, and in some cases, World and Pan American Team spots.
Doug Parker, a World War II U.S. Army veteran who coached wrestling at Springfield College for 35 years and was the father of longtime Enfield High School wrestling coach Kirk Parker, died April 24. He was 95.
Ed Onorato, whose success as a wrestling coach led to inductions into three athletic halls of fame, died Tuesday. The former Cathedral Prep wrestling coach was 80.
Ohio State wrestling head coach Tom Ryan has announced two changes to his coaching staff. With the departure of Tervel Dlagnev in March, Ryan has turned to two familiar faces within the Buckeye family. Logan Stieber will step into an assistant coach position and will continue to be the head of the Ohio Regional Training Center.
The last two Americans with the opportunity to qualify for the Olympic Games will aim to punch their tickets at the World Olympic Qualifier in Sofia, Bulgaria this Saturday. Jesse Porter and Adam Coon won the Olympic Team Trials in April at 77 kg and 130 kg respectively.
Jordan Oliver (Chapel Hill, N.C./Sunkist Kids/Tar Heel WC) dropped his World Olympic Qualifier semifinal bout to Poland's Magomedmurad Gadzhiev, 3-2, ending his run at attempting to qualify the 65 kg weight for the USA for the Tokyo Olympics.
All eyes were on him, even though there were others who demanded attention. Everyone saw the names on the chart and nodded their heads, but they also figured that the day would eventually belong to Billy Sullivan (55 kg, LOG-LV).
In addition to her roles as World champion and 2021 Olympian for Team USA, Tamyra Mensah-Stock is a big fan of Anime, the Japanese animation series where certain characteristics turn the cartoon characters into superheroes.
"I'm honestly just really grateful to go," Helen Maroulis tells PEOPLE of the upcoming Tokyo Olympics. "I'm really looking forward to competing."
The University of Wisconsin-Parkside and Director of Athletics Andrew Gavin are pleased to announce the hiring of Nick Becker '18 as the new Head Wrestling Coach. Becker, the fourth head coach in program history, joins the Parkside Athletics staff effective immediately.
MSU Director of Athletics, Andy Carter announced today, "I am proud to represent Minot State University Athletics. It is with tremendous excitement and anticipation to announce MSU will be adding Women's Wrestling as an intercollegiate varsity sport within Beaver Athletics."
Following 14 seasons at Southwest Minnesota State University, head wrestling coach Jesse Nelson announced on Thursday he is resigning his post to pursue an outside professional opportunity.
The Boilermakers continued their upward climb in the Big Ten and NCAA in 2021, making more marks in the record book, while facing adversity the sport has never seen before.
Rutgers wrestling revealed its team awards for the 2020-21 season. John Poznanski (184) and Sebastian Rivera (141) shared the Ted Petty Most Valuable Wrestler award after both secured fourth-place finishes and All-America honors at the 2021 NCAA Championships in St. Louis.
Virginia Tech wrestling swept the three annual Virginia Sports Information Directors (VaSID) awards Thursday and placed five wrestlers on the All-State First Team.
Mitch Finesilver has impressive run at World Olympic Qualifiers, but falls to Ukraine's Mykhailov in semifinals.
Southeastern University wrestling coach Travis Patrick announced the hiring of Koby Reyes as an assistant coach to his staff.