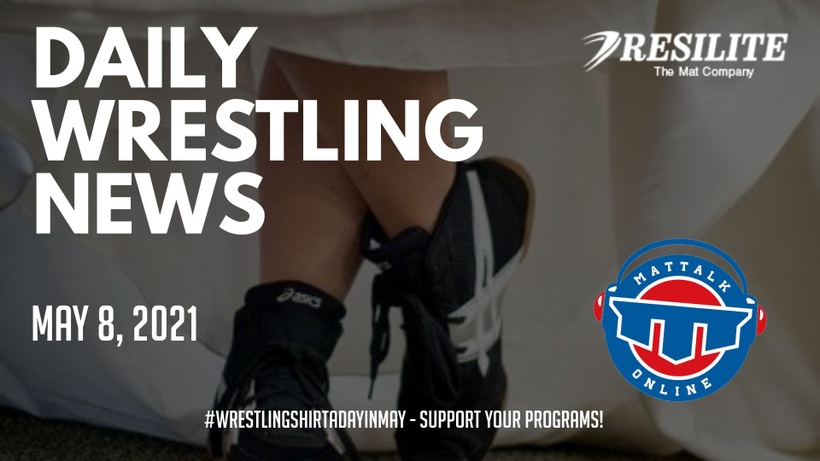 There's a lot of wrestling news out there you don't normally see, because it's not really centralized, so that's where the Mat Talk Online Daily Wrestling News has come into play. Each day, content is curated and put together for a morning e-mail newsletter that will arrive at approximately 6 a.m. Central at least five days a week. Not interested in getting another e-mail? Read the news you might have missed from around the world. Some news might be related to other sports but has a connection to wrestling, that's why you'll sometimes see those here as well.
Get this delivered to your inbox daily by signing up at mattalkonline.com/news
Patrons, get access to the @mattalkonline Discord server to talk wrestling with fellow patrons and fans
https://discord.gg/24yNZKtS (Link expires May 14)
SOFIA, Bulgaria (May 7) — Veronika CHUMIKOVA (RUS) was on her way to becoming the lone Russian to fail to qualify her weight class for the upcoming Olympics. Instead, she will be on her way to Tokyo as part of a full contingent thanks to a dramatic late victory.
This summer will mark the 50th USA Wrestling Junior National Championships, a major national high-school competition which has had a tremendous impact on the sport in our nation for a half-century.
Afsoon Johnston was a two-time World medalist, winning a bronze in 1989 and a silver in 1990. Johnston reflects on what she has learned from four-time World champion Tricia Saunders.
When the #FantasyCollegeWrestling season comes to an end, it's usual to feel like you need a break. I get it; even WE took a little time for some needed R&R (fear not, though, the FCW Podcast returns later this month!). The amount of work and game planning is exponentially higher than Fantasy Football or other sports.
Helen Maroulis started defying the odds when she was only seven years old. Maroulis had both an older and younger brother who were giving wrestling a try and Maroulis eventually wanted to play too.
The attack on junior wrestling champion Sagar Kumar and his friends, was "premeditated" by Olympic medalist Sushil Kumar, who wanted to "teach them a lesson" for "badmouthing him in public" and "disrespecting him", a source in Delhi Police told ThePrint.
After a one year hiatus due to COVID-19, the Walsh Jesuit Ironman will return in a big way in 2021 with an absolutely loaded field.
Will the legal system deliver the reversal that will enable wrestlers at Erie County high schools to compete against the rest of their Section VI counterparts this season?
Future Olympian Johnny Stefanowicz began wrestling at the age of 4 in Bel Air, Md., and remained in the Baltimore area until seventh grade. Now, he will be part of U.S. Greco-Roman wrestling team that will compete in the 2021 Summer Games in Tokyo.
Two-time NCAA All-American Evan Wick has entered the transfer portal.
A former volunteer Horlick High School wrestling coach has been charged with numerous counts of sexually assaulting former students, as well as capturing nude images of several of them.
A third Phillipsburg High School teacher faces criminal charges in an alleged tenure scheme targeting a school district employee, the Warren County Prosecutor's Office said Friday.
The defamation lawsuit filed by a referee whose call on a head-covering rule resulted in a high school wrestler deciding to cut his dreadlocks rather than forfeit a match was dismissed by a Superior Court judge.
For the first time in state history, a number of wrestling meets will take place outdoors in spring weather as the sport resumes after a 14-month absence because of the COVID-19 pandemic. Illinois and New York are among the states that have held outdoor wrestling meets during the pandemic.
As police try to find wrestler, how did the two-time Olympic medallist become a wanted man?
Russia's Veronika Chumikova secured an emotional late win by fall to book her Tokyo 2020 place as women's freestyle wrestling took centre stage on the second day of the United World Wrestling (UWW) World Olympic Games qualifier in Sofia, Bulgaria.
After #7 ranked Khetik Tsabolov went down early, it was anyone's bracket at 74 kg. Russian transfer Kadimagomedov took out two elite competitors to punch his ticket to the Tokyo Olympics.
The U.S. Junior World Team in women's freestyle is set with 10 impressive athletes after an entertaining finals session on Friday night at the 2021 Women's Nationals in Irving, Texas.
The men's freestyle competition at the World Olympic Games Qualifier was completed on Friday with the medal matches, and the women's freestyle tournament advanced through the semifinals, which has determined the nations which have qualified for the Olympic Games in that style.
When the #FantasyCollegeWrestling season comes to an end, it's usual to feel like you need a break. I get it; even WE took a little time for some needed R&R (fear not, though, the FCW Podcast returns later this month!). The amount of work and game planning is exponentially higher than Fantasy Football or other sports.
Joe Rau is a Chicago Legend. He's a multiple time World Team Member in greco and winner of the 2016 Olympic Team Trials. He was recently involved in a controversial match in the finals of the 2021 Olympic Team Trials. Back in high school, Joe was a 1x state qualifier and went on to wrestle Division 3 at Elmhurst College. There he was a 3x All American and NCAA Champion.
On Episode 97 of Mat Chat, David Mirikitani sits down with Illinois's new head coach Mike Poeta and discusses his vision for the future of the program. Poeta was a three-time All-American and two-time NCAA finalist for the Fighting Illini and has been on staff as an assistant coach for the past five years.
This week the women get a change to make some world teams in Texas. The annual Women's Nationals(formerly Body Bar) is taking place with competition at the 14U, U15, Cadet, Junior, and U23 age levels. There will be 19 competitors from Indiana participating with some doubling up in age divisions. Competition starts today and will run through Sunday
Shortly before 2014, Ildar Hafizov took a gamble on the United States and seven years later, that gamble has paid off for the 33-year-old native of Uzbekistan … and for the United States' Greco-Roman program.
The athletics department announced on Thursday night that Cody Cole will take over as the next Head Wrestling Coach at New Mexico Highlands University.
After nine months of intense training, former University of Virginia wrestler Jack Mueller came close to qualifying for last month's U.S. Olympic Trials. But his dream ended in late March at the Last Chance Olympic Trials Qualifier in Fort Worth, Texas, where two other wrestlers advanced in the 57-kilogram class.
Sam Stewart was seconds away from qualifying for her first Olympic Games but fell short when she was taken down with under five seconds to go.