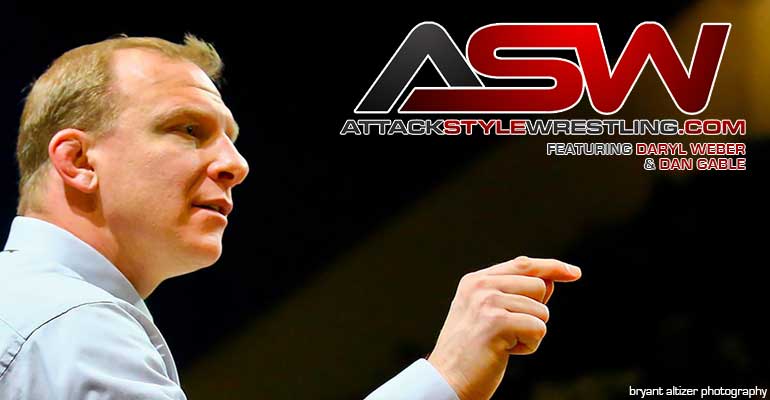 Podcast: Play in new window | Download | Embed
Subscribe to this show via: Apple Podcasts | Google Podcasts | RSS
What exactly should you and your wrestlers be thinking about on match day? What's important about the match day preparation? Everything.
On Episode 6 of the Attack Style Wrestling Podcast, NCAA champion and nine-time state championship coach Daryl Weber will explain the five key areas of match day preparation and go through what the first four areas mean as they all lead to the opening whistle.
Coach Weber will explain the post-weigh in process, how to handle the day's warm-up and how to handle down time between matches and your initial warm up. Once you've wrestled your first match, how are you dealing with the break? What do you do the 20 minutes prior to taking to the mat and when the whistle blows, how do you flip the switch?
All those topics are discussed on Episode 6 of the Attack Style Wrestling Podcast.
The Attack Style Wrestling Podcast is brought to you by AttackStyleWrestling.com.
SUBSCRIBE TO ATTACK STYLE WRESTLING PODCAST
iTunes | Stitcher | Spreaker | SoundCloud | RSS
Contribute
And if you're a fan of the extensive and broad-based reach of the shows on the Mat Talk Podcast Network, consider becoming a contributor by going to www.patreon.com/mattalkonline. There are various levels of perks for the different levels of patronage. If you like wrestling content — scratch that — if you LOVE great wrestling content, consider becoming a contributor. How much you give is solely up to how much you believe it's worth to you.
Looking to start a podcast of your own?
Get a free month with Libsyn.com by using the promo code MTO when you sign up. You'll get the remainder of the month from when you sign up as well as the next month free. It'll be enough time to kick the tires and lights some fires.