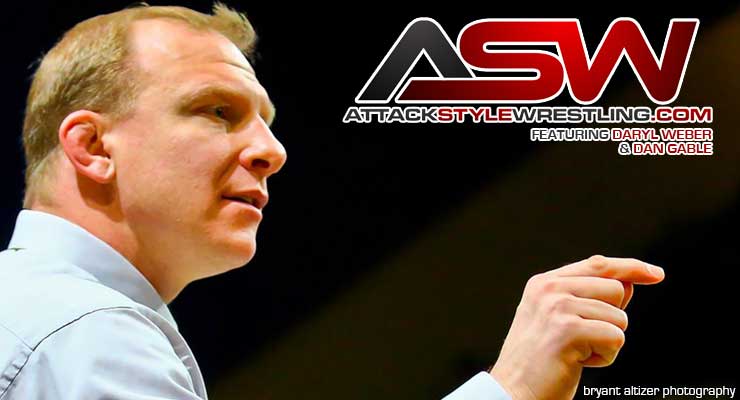 Podcast: Play in new window | Download | Embed
Subscribe to this show via: Apple Podcasts | RSS
With the start of any wrestling season, whether it be high school, college or freestyle and Greco-Roman, getting your wrestlers to focus and frame their mind is crucial to development.
On Episode 7 of the Attack Style Wrestling Podcast, coach Daryl Weber identifies three main areas with your wrestlers to get their mental framework and mindset in gear.
Be Coachable
1. Don't look for easier way than coach is telling you.
2. You will always find someone to tell you the easier road is acceptable.
3. Life will be much easier, if you are coachable. You improve quicker, have more confidence and aren't always looking over your shoulder.
Be Positive
1. Anyone can be positive when all is good.
2. Mentally tough people find a positive spin when the chips are down.
3. Example: If you get taken down and start shaking your head.
4. Expect & Be Prepared to Deal with Adversity
Be Accountable
1. When coach corrects you, does it upset you or do you have a sense of urgency to correct things?
2. Most people are quick to throw pity parties. Separate yourself from the pack by holding yourself accountable regular.
The Attack Style Wrestling Podcast is brought to you by AttackStyleWrestling.com.
SUBSCRIBE TO ATTACK STYLE WRESTLING PODCAST
iTunes | Stitcher | Spreaker | SoundCloud | RSS
Contribute
And if you're a fan of the extensive and broad-based reach of the shows on the Mat Talk Podcast Network, consider becoming a contributor by going to www.patreon.com/mattalkonline. There are various levels of perks for the different levels of patronage. If you like wrestling content — scratch that — if you LOVE great wrestling content, consider becoming a contributor. How much you give is solely up to how much you believe it's worth to you.
Looking to start a podcast of your own?
Get a free month with Libsyn.com by using the promo code MTO when you sign up. You'll get the remainder of the month from when you sign up as well as the next month free. It'll be enough time to kick the tires and lights some fires.