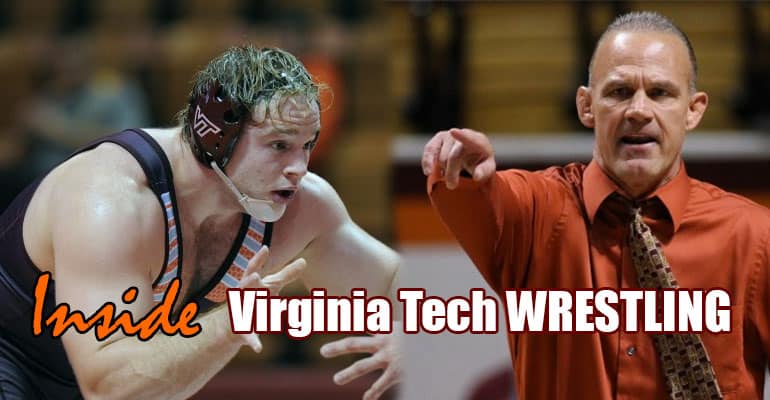 Podcast: Play in new window | Download | Embed
Subscribe to this show via: Apple Podcasts | Google Podcasts | RSS
A third-place performance and three second-place individual performances highlighted Virginia Tech's trip to the 33rd annual Cliff Keen Las Vegas Invitational.
On Episode 5 of Inside Virginia Tech Wrestling, we talk with Hokie head wrestling coach Kevin Dresser about the individual performances in Vegas and we also visit with sophomore heavyweight Ty Walz, who was one of the surprise runners-up.
Coach Dresser also looks ahead towards Penn State on December 19 and talks about the latter part of the schedule with the three February duals at the Moss Arts Center.
The visit with Walz was an engaging one, as he told the story about how he started wrestling in the eighth grade, the keys to beating Michigan's Adam Coon and Ohio State's Nick Tavanello and some of the reasons why he chose to wrestle at Virginia Tech.
A reminder, you can always go back and listen to the show at www.insidevirginiatechwrestling.com and they can subscribe using iTunes on your computer or Apple device by going to www.insidevirginiatechwrestling.com/itunes. There are also links on the show page about how you can listen via other apps like Stitcher and Spreaker.
We're also happy to let you know the Android and iOS apps are available. Go to www.insidevirginiatechwrestling.com and check the HOW TO LISTEN menu and you'll see links right to the specific apps. It's also available on the sidebar of the homepage.
Follow @mattalkonline on Twitter for updates and nuggets of information about Inside Virginia Tech Wrestling and all the other shows that are part of the Mat Talk Podcast Network. You can also check out our network home page at www.mattalkonline.com.