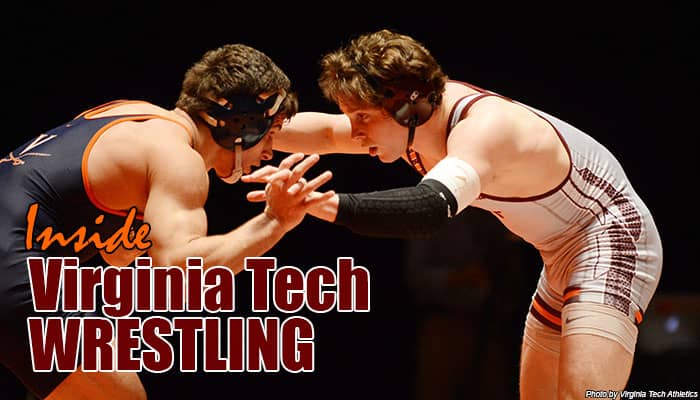 Podcast: Play in new window | Download | Embed
Subscribe to this show via: Apple Podcasts | Google Podcasts | RSS
On Episode 9 of Inside Virginia Tech Wrestling, head wrestling coach Kevin Dresser takes a look back at the very first wrestling dual held at the Moss Arts Center. That dual was an 18-16 win over rival Virginia. The Hokies now prepare for two duals over the weekend as they welcome nationally-ranked Pittsburgh on Friday, February 6 at 7 p.m. and then on Sunday, February 8 at 2 p.m. against N.C. State.
Coach Dresser points to some of the promising performances against Virginia and some of the not-so-promising ones. We'll get a timetable on when we could see Devin Carter back in the lineup and he also comments on Nick Brascetta's return.
Brascetta will join the show in the second half to talk about his matriculation to Virginia Tech, when he got started wrestling, what it's been like to sit out this year with an injury and some of the special moments wrestling brings, like winning a Midlands title and earning All-American status.
He'll also throw a teammate under the bus, not literally, of course!
A reminder, you can always go back and listen to the show at www.insidevirginiatechwrestling.com and they can subscribe using iTunes on your computer or Apple device by going to www.insidevirginiatechwrestling.com/itunes. There are also links on the show page about how you can listen via other apps like Stitcher and Spreaker.
We're also happy to let you know the Android and iOS apps are available. Go to www.insidevirginiatechwrestling.com and check the HOW TO LISTEN menu and you'll see links right to the specific apps. It's also available on the sidebar of the homepage.
Follow @mattalkonline on Twitter for updates and nuggets of information about Inside Virginia Tech Wrestling and all the other shows that are part of the Mat Talk Podcast Network. You can also check out our network home page at www.mattalkonline.com.