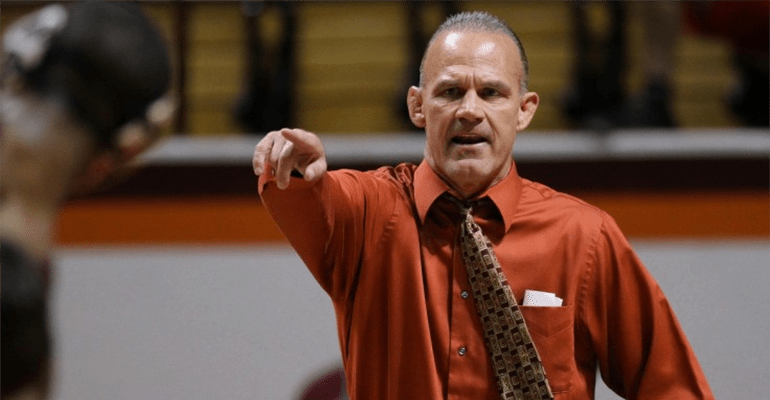 Podcast: Play in new window | Download | Embed
Subscribe to this show via: Apple Podcasts | Google Podcasts | RSS
The home slate is finished for the Virginia Tech Hokie wrestling team and on Episode 10 of Inside Virginia Tech Wrestling, coach Kevin Dresser recaps the finale and looks towards the last two duals of the season.
Virginia Tech will head to Chapel Hill on Friday, February 20 to take on North Carolina before heading up to Long Island to take on the host Pride of Hofstra University on February 22 at noon.
After those duals, the ninth-ranked Hokies will hang around snow-covered Blacksburg to prepare for the ACC Championships, which take place on March 8 at Pittsburgh.
Coach Dresser talks about sending off the seniors and the opportunity to wrestle three duals at the Moss Arts Center. He also gives Hokie Nation an update on the status of Austin Gabel at 184 pounds.
We'll also poke some fun at Coach Dresser's age … he placed fourth at the NCAA Division I Championships 30 years ago.
A reminder, you can always go back and listen to the show at www.insidevirginiatechwrestling.com and they can subscribe using iTunes on your computer or Apple device by going to www.insidevirginiatechwrestling.com/itunes. There are also links on the show page about how you can listen via other apps like Stitcher and Spreaker.
We're also happy to let you know the Android and iOS apps are available. Go to www.insidevirginiatechwrestling.com and check the HOW TO LISTEN menu and you'll see links right to the specific apps. It's also available on the sidebar of the homepage.
Follow @mattalkonline on Twitter for updates and nuggets of information about Inside Virginia Tech Wrestling and all the other shows that are part of the Mat Talk Podcast Network. You can also check out our network home page at www.mattalkonline.com.