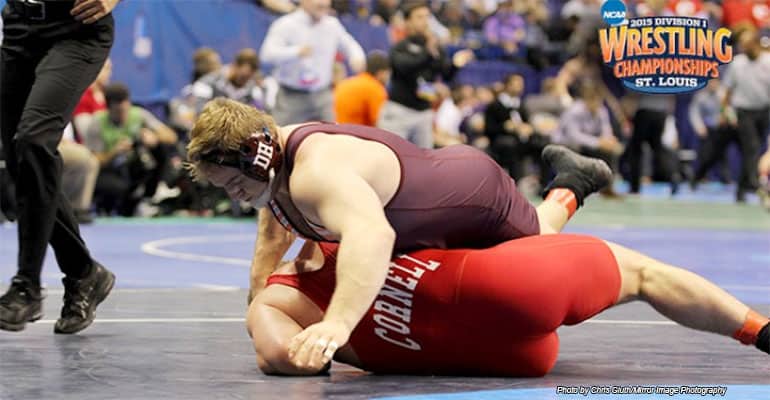 Podcast: Play in new window | Download | Embed
Subscribe to this show via: Apple Podcasts | RSS
The wrestling season has come to a close and on Episode 12 of Inside Virginia Tech Wrestling, host Jason Bryant and head wrestling coach Kevin Dresser break down the individual performances at the NCAA Division I Wrestling Championships in St. Louis and look forward to the future.
Coach Dresser also has a clinic and a fundraiser for Hokie Wrestling in Virginia Beach this weekend as the NHSCA National Championships take place at the Virginia Beach Convention Center, just blocks from the oceanfront.
I'd like to include a personal note to all the fans of Virginia Tech wrestling who listen to this show regularly — THANK YOU. As coach Dresser explains at the end of Episode 12, Virginia Tech was one of the first programs to jump on board with the Mat Talk Podcast Network. The relationship goes back to when he was coaching at Grundy and I was a high school student at Poquoson. Coach Dresser took a leap of faith on this project and I feel it's been a success. Virginia Tech has become the model program for which shows on the Mat Talk Podcast Network are to follow. An engaged fanbase, I ask to simply leave a review on iTunes or on Stitcher for how much you liked the show. I appreciate all the feedback Hokie Nation has provided this year and we will continue on in the off-season with athlete interviews, we'll talk to alumni and keep you engaged throughout the offseason!.
A reminder, you can always go back and listen to the show at www.insidevirginiatechwrestling.com and they can subscribe using iTunes on your computer or Apple device by going to www.insidevirginiatechwrestling.com/itunes. There are also links on the show page about how you can listen via other apps like Stitcher and Spreaker.
We're also happy to let you know the Android and iOS apps are available. Go to www.insidevirginiatechwrestling.com and check the HOW TO LISTEN menu and you'll see links right to the specific apps. It's also available on the sidebar of the homepage.
Follow @mattalkonline on Twitter for updates and nuggets of information about Inside Virginia Tech Wrestling and all the other shows that are part of the Mat Talk Podcast Network. You can also check out our network home page at www.mattalkonline.com.