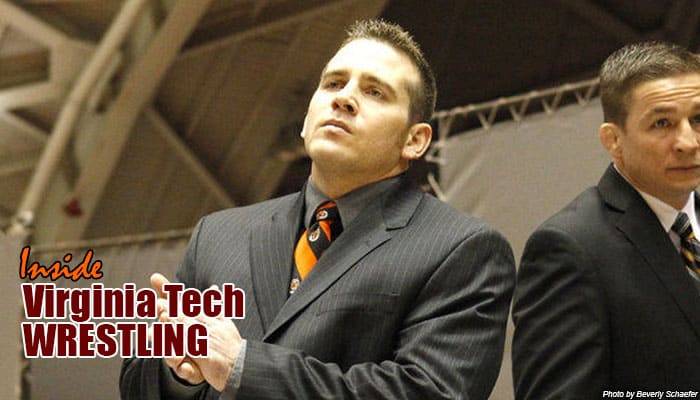 Podcast: Play in new window | Download | Embed
Subscribe to this show via: Apple Podcasts | RSS
The first practice has come and gone and coach Kevin Dresser is looking forward to kicking off the season. We'll talk with coach Dresser about the first week and he'll even answer a few listener questions.
Episode 21 features Virginia Tech alum and current Princeton assistant wrestling coach Sean Gray. A two-time All-American for the Hokies, Gray recently was inducted into the Virginia Tech Sports Hall of Fame. We'll recap why Gray chose Virginia Tech under then-coach Keith Mourlam and how his time in Blacksburg helped shape him into the coach he is today.
Gray breaks down the highs and lows of his career, including wrestling in the All-Star Classic, Virginia Tech's move into the Eastern Wrestling League from the CAA and how he battled back for his first All-American honor and the disappointment he has drawn inspiration from after his 2002 tournament.
Gray's always a fun guy to talk with and he's never short on an explanation.
SUBSCRIBE TO THE SHOW
iTunes | Stitcher | Spreaker | Soundcloud | iOS App | Android App | RSS
Contribute
And if you're a fan of the extensive and broad-based reach of the shows on the Mat Talk Podcast Network, become a contributor today.. There are various levels of perks for the different levels of patronage. If you like wrestling content — scratch that — if you LOVE great wrestling content, consider becoming a contributor. How much you give is solely up to how much you believe it's worth to you.
Looking to start a podcast of your own?
Get a free month with Libsyn by using the promo code MTO when you sign up. You'll get the remainder of the month from when you sign up as well as the next month free. It'll be enough time to kick the tires and lights some fires.
Follow @mattalkonline on Twitter for updates and nuggets of information about Inside Virginia Tech Wrestling and all the other shows that are part of the Mat Talk Podcast Network. You can also check out our network home page at www.mattalkonline.com.