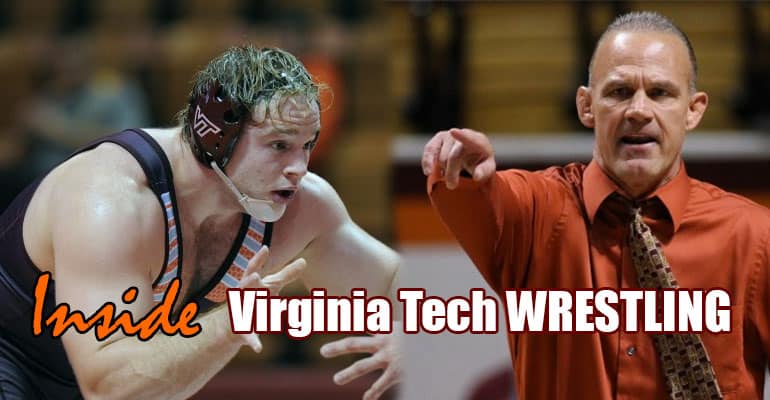 Podcast: Play in new window | Download | Embed
Subscribe to this show via: Apple Podcasts | Google Podcasts | RSS
Back in studio as Episode 25 of Inside Virginia Tech Wrestling catches up with Hokie head wrestling coach Kevin Dresser on the recruiting trail.
Well, since we can't really discuss what recruits exactly, the discussion will center around the Hokie performances at the recent Cliff Keen Las Vegas Invitational. Ty Walz captured the school's first-ever individual title at the event and the team finished sixth with just seven wrestlers entered. Joey Dance also reached the finals, falling to returning NCAA champion Nathan Tomasello of Ohio State.
With the team ranked sixth in the most recent USA Today/NWCA Division I Coaches Poll, Dresser goes weight-by-weight, answers some injury-related questions and explains the recent lineup change at 133 pounds.
SUBSCRIBE TO THE SHOW
iTunes | Stitcher | Spreaker | Soundcloud | iOS App | Android App | RSS
Contribute
And if you're a fan of the extensive and broad-based reach of the shows on the Mat Talk Podcast Network, become a contributor today.. There are various levels of perks for the different levels of patronage. If you like wrestling content — scratch that — if you LOVE great wrestling content, consider becoming a contributor. How much you give is solely up to how much you believe it's worth to you.
Looking to start a podcast of your own?
Get a free month with Libsyn by using the promo code MTO when you sign up. You'll get the remainder of the month from when you sign up as well as the next month free. It'll be enough time to kick the tires and lights some fires.
Follow @mattalkonline on Twitter for updates and nuggets of information about Inside Virginia Tech Wrestling and all the other shows that are part of the Mat Talk Podcast Network. You can also check out our network home page at www.mattalkonline.com.