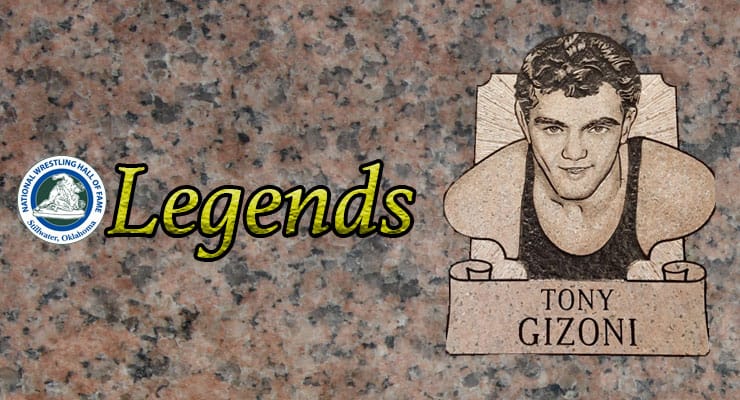 Podcast: Play in new window | Download | Embed
Subscribe to this show via: Apple Podcasts | Google Podcasts | RSS | More
Episode 9 of the National Wrestling Hall of Fame's LEGENDS podcast features 2017 Distinguished Member Tony Gizoni. Gizoni passed away just over a month after his 2017 induction.
One of the greatest wrestlers ever to grace the collegiate mat, Tony "Babe" Gizoni was undefeated for seven years in high school and college, winning 108 straight matches. He became the fourth wrestler in Pennsylvania prep history to win three state championships, claiming titles at 101, 103 and 112 pounds from 1946 to 1948 at Washington High School.
Gizoni won back-to-back NCAA Division I championships for Waynesburg College. He was also voted Outstanding Wrestler after winning at 121 pounds in 1950 when, as an unseeded wrestler, he defeated the tournament's top seed ? a two-time defending national champion ? in the finals. In 1951, wrestling at 123 pounds, he won the title as the No. 1 seed. Trailing in the finals, Gizoni used hand control, back pressure and a hip heist to get a reversal and gain the upper hand in a tight match. That patented move is forever known as the "Gizoni Special." As a senior in 1952, he was ruled ineligible for the postseason after competing in dual meets and tournaments that were not approved by the NCAA Rules Committee.
While at Waynesburg, Gizoni's 28 dual wins helped the Yellow Jackets to 34 consecutive dual meet wins from 1949 to 1952. Finishing his collegiate career with a 52-0 record, Gizoni's overall record for high school and college was 120-3-1. The three losses and the tie occurred in his freshman year of high school.
Following his competitive days on the mat, Gizoni served in the Korean War and earned a Bronze Star for bravery in combat. He is a member of the Pennsylvania Wrestling Coaches Association Hall of Fame, the Pennsylvania Sports Hall of Fame Washington-Greene, the Helms Athletic Foundation Hall of Fame and the Waynesburg College Hall of Fame.
As a true legend in the wrestling history of Pennsylvania and the NCAA, Tony Gizoni is honored as a Distinguished Member of the National Wrestling Hall of Fame.
SUBSCRIBE TO THE SHOW
iTunes | Stitcher | Spreaker | iHeartRadio | Google Play Music | Android | RSS
Contribute
And if you're a fan of the extensive and broad-based reach of the shows on the Mat Talk Podcast Network, become a contributor today.. There are various levels of perks for the different levels of patronage. If you like wrestling content — scratch that — if you LOVE great wrestling content, consider becoming a contributor. How much you give is solely up to how much you believe it's worth to you.
Looking to start a podcast of your own?
Get a free month with Libsyn by using the promo code MTO when you sign up. You'll get the remainder of the month from when you sign up as well as the next month free. It'll be enough time to kick the tires and lights some fires.