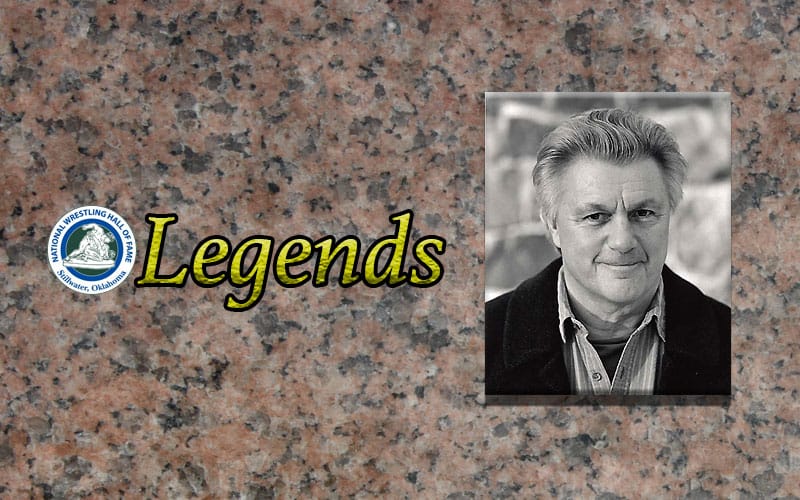 Podcast: Play in new window | Download | Embed
Subscribe to this show via: Apple Podcasts | RSS | More
Episode 3 of the National Wrestling Hall of Fame's LEGENDS podcast features award-winning writer and novelist John Irving, a 1992 Outstanding American inductee.
This episode was previously released on the Short Time Wrestling Podcast on November 16, 2015.
Throughout his literary career, John Irving has demonstrated his ties to wrestling. In his best-known novel, The World According to Garp, the title character is a wrestling enthusiast. The 158-Pound Marriage, winner of a National Endowment for the Arts Award, features a wrestling coach as a principal character.
Irving attended the Universities of Pittsburgh and Vienna and earned degrees at the Universities of New Hampshire and Iowa. He has taught at Windham College, Mount Holyoke, Wellesley College, Brandeis University, Pittsburgh and Iowa.
Wrestling captain at Phillips Exeter Academy in New Hampshire, Irving was a member of the wrestling team at Pitt. He has coached at Phillips Exeter and four other prep schools in Massachusetts and Vermont. He is a member of the Hawkeye Wrestling Club and the New York Athletic Club.
His works include Setting Free the Bears, 1968; The Water-Method Man, 1972; The 158-Pound Marriage, 1974; The World According to Garp, 1978; The Hotel New Hampshire, 1981; The Cider House Rules, 1985; and A Prayer for Owen Meany, 1989. He continues to write novels on a regular basis.
Irving received the Rockefeller Foundation Award in 1973, a Guggenheim Fellowship in 1976-77, and the O'Henry Prize, for the best American short stories in 1981.
SUBSCRIBE TO THE SHOW
iTunes | Stitcher | Spreaker | Soundcloud | Google Play Music | Android | RSS
Contribute
And if you're a fan of the extensive and broad-based reach of the shows on the Mat Talk Podcast Network, become a contributor today.. There are various levels of perks for the different levels of patronage. If you like wrestling content — scratch that — if you LOVE great wrestling content, consider becoming a contributor. How much you give is solely up to how much you believe it's worth to you.
Looking to start a podcast of your own?
Get a free month with Libsyn by using the promo code MTO when you sign up. You'll get the remainder of the month from when you sign up as well as the next month free. It'll be enough time to kick the tires and lights some fires.