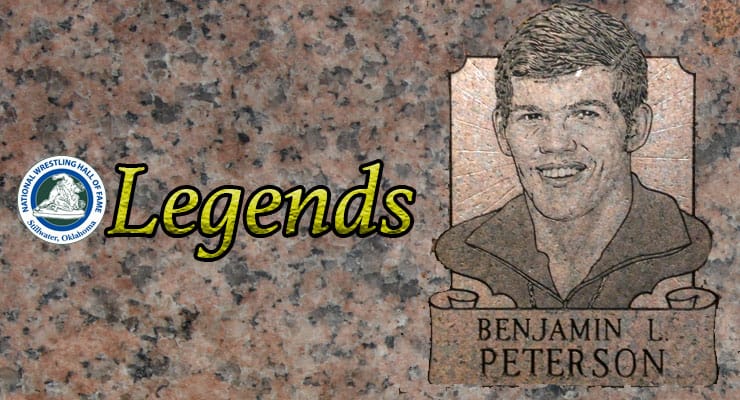 Podcast: Play in new window | Download | Embed
Subscribe to this show via: Apple Podcasts | Google Podcasts | RSS | More
Episode 6 of the National Wrestling Hall of Fame's LEGENDS podcast features 1986 Distinguished Member Ben Peterson.
A high school youngster from Wisconsin, competing in the 1968 Olympic trials, caught the eye of veteran coach Harold Nichols. Ben Peterson would become one of Iowa State's greatest wrestlers, and then one of America's brightest stars. He won nearly 100 collegiate matches, was a three-time Big Eight king and a three-time All-American. He captured NCAA championships in 1971 and '72.
Encouraged–you might say pushed–by his friend and teammate, Dan Gable, Peterson blended athletic skills with determination and strong faith. Over the next decade, he won seven national Freestyle titles, placed twice in the World Championships (with a bronze medal in '73), and won gold in the 1975 Pan Am Games. During this era, he was joined by his brother, John, to forge one of wrestling's great family legends.
In the '72 Olympics, Ben struggled to a draw with Gennady Strakhov of the USSR. When they emerged as the only survivors at 198 pounds, Ben earned the gold with more falls. John's silver at 180.5 was almost as sweet. The brothers returned to the Olympics in 1976 at Montreal, for equally rewarding but oddly reversed success. Levan Tediashvili, the superb Soviet who had blocked John's bid at Munich, limited Ben to a silver medal. But John captured the gold, and the Peterson brothers became the third and fourth two-time Olympic medalists in U.S. history.
Ben made a third Olympic team in 1980, only the fifth American to do that, but was thwarted by the boycott.
Faith has been a hallmark of Ben Peterson's life. Since 1976 he has coached and taught at Maranatha Baptist Bible College in Wisconsin, and has directed a summer camp to teach his skills and his way of life to young wrestlers. In 1985, one of Ben's students, Mike Houck, became the first American to win a World Championship in Greco-Roman.
As a wrestler of outstanding achievement and as a golden example of sportsmanship and leadership, Benjamin Lee Peterson is honored as a Distinguished Member of the National Wrestling Hall of Fame.
SUBSCRIBE TO THE SHOW
iTunes | Stitcher | Spreaker | iHeartRadio | Soundcloud | Google Play Music | Android | RSS
Contribute
And if you're a fan of the extensive and broad-based reach of the shows on the Mat Talk Podcast Network, become a contributor today.. There are various levels of perks for the different levels of patronage. If you like wrestling content — scratch that — if you LOVE great wrestling content, consider becoming a contributor. How much you give is solely up to how much you believe it's worth to you.
Looking to start a podcast of your own?
Get a free month with Libsyn by using the promo code MTO when you sign up. You'll get the remainder of the month from when you sign up as well as the next month free. It'll be enough time to kick the tires and lights some fires.
Hall of Fame Legends