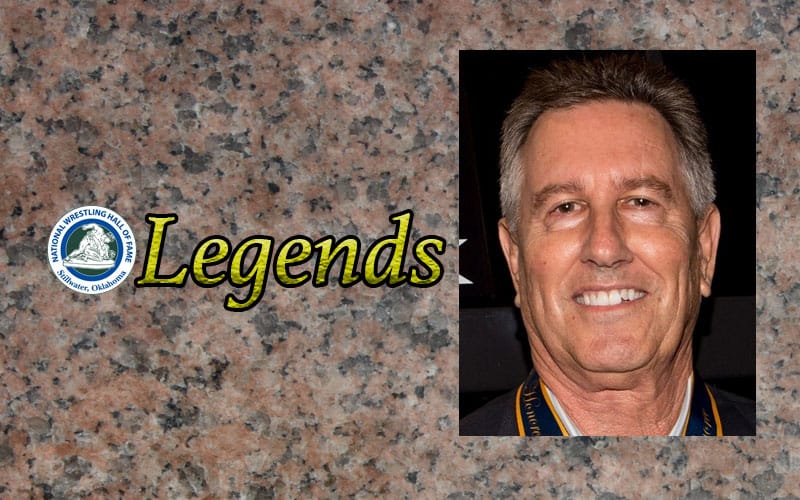 Podcast: Play in new window | Download | Embed
Subscribe to this show via: Apple Podcasts | Google Podcasts | RSS | More
Episode 7 of the National Wrestling Hall of Fame's LEGENDS podcast features 2016 Order of Merit recipient Ron Good of Amateur Wrestling News.
His career on the mat ended in high school where he helped John Marshall High School in Oklahoma City capture a state championship. His involvement with wrestling, however, continued and if you've read America's first and oldest national wrestling publication, Amateur Wrestling News, then Ron Good's name is familiar.
Serving as co-editor and editor for almost 40 years and regarded as one of the nation's top experts on college wrestling, Good is highly respected for his match coverage, feature stories, columns and rankings.
Good attended his first NCAA Championships in 1977 as a volunteer for AWN before being hired by the publication that August. He spent five years under the mentorship of the magazine's founder Jess Hoke, who was inducted into the National Wrestling Hall of Fame as a Distinguished Member in 1977. Good, who attended the University of Central Oklahoma where he studied music and participated in intramural wrestling, says that he was impacted by Hoke's "contagious passion" for the sport.
He received the Bob Dellinger Award as the Wrestling Writer of the Year in 1989, and was honored by the National Wrestling Media Association with its Print Journalist of the Year award in 2007. Amateur Wrestling News was selected as the NWMA Publication of the Year in 1992.
SUBSCRIBE TO THE SHOW
iTunes | Stitcher | Spreaker | iHeartRadio | Google Play Music | Android | RSS
Contribute
And if you're a fan of the extensive and broad-based reach of the shows on the Mat Talk Podcast Network, become a contributor today.. There are various levels of perks for the different levels of patronage. If you like wrestling content — scratch that — if you LOVE great wrestling content, consider becoming a contributor. How much you give is solely up to how much you believe it's worth to you.
Looking to start a podcast of your own?
Get a free month with Libsyn by using the promo code MTO when you sign up. You'll get the remainder of the month from when you sign up as well as the next month free. It'll be enough time to kick the tires and lights some fires.