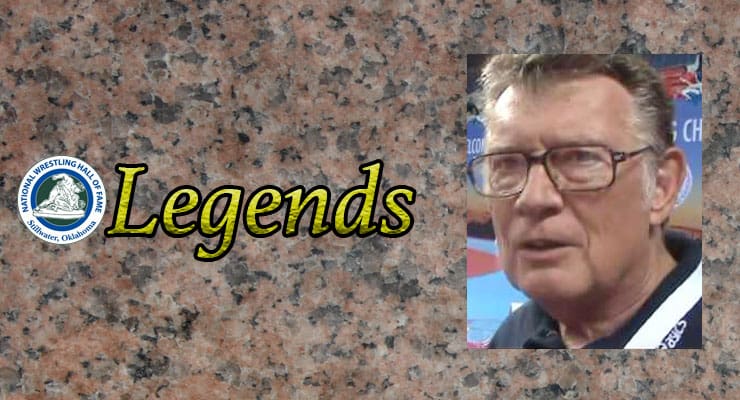 Podcast: Play in new window | Download | Embed
Subscribe to this show via: Apple Podcasts | Google Podcasts | RSS | More
Episode 8 of the National Wrestling Hall of Fame's LEGENDS podcast features 2015 Order of Merit recipient Dave Bennett.
Known as "Doc" throughout the wrestling community, Dave Bennett got his start in wrestling as a member of the inaugural high school wrestling team at Jamestown High School in North Dakota in 1959. He was a conference place winner and qualified for the NAIA National Championships while attending Jamestown College (now University of Jamestown). In 1963, he transferred to Pacific University to finish his wrestling career.
Bennett graduated with his Bachelor's degree at Pacific before completing his doctorate in optometry in 1966. After continued study at the University of Washington and the University of Missouri-Kansas City School of Medicine, he went into a joint practice of ophthalmology in Kennewick, Wash., in 1978.
He blended a professional career with wrestling throughout his life. Bennett coached high school teams from 1969-1990, holding positions as a volunteer, assistant coach, and head wrestling coach at five different high schools. He helped coach over 40 wrestlers to high school state championships in three states.
Through Sunkist Kids, Bennett became involved in video scouting and technique analysis. He has produced over 60 instructional and educational tapes for coaches, athletes, and officials, featuring some of the top athletes and coaches in the world. He also produced over 40 television shows for broadcast in the United States and abroad.
In 1997, he gave up his medical practice to become a full-time staff member of USA Wrestling. Three years later, he was named National Developmental Freestyle Coach. He was honored as the United States Olympic Committee Coach of the Year in 2008, receiving the Doc Counsilman Award. He is the only wrestling coach to ever receive this prestigious award.
Bennett continues to volunteer his services to USA Wrestling, United World Wrestling, and the National Wrestling Hall of Fame with digital media productions. He serves on USA Wrestling's volunteer coaching staff and the expert group for education for United World Wrestling, the international governing body for the sport of wrestling.
SUBSCRIBE TO THE SHOW
iTunes | Stitcher | Spreaker | iHeartRadio | Google Play Music | Android | RSS
Contribute
And if you're a fan of the extensive and broad-based reach of the shows on the Mat Talk Podcast Network, become a contributor today.. There are various levels of perks for the different levels of patronage. If you like wrestling content — scratch that — if you LOVE great wrestling content, consider becoming a contributor. How much you give is solely up to how much you believe it's worth to you.
Looking to start a podcast of your own?
Get a free month with Libsyn by using the promo code MTO when you sign up. You'll get the remainder of the month from when you sign up as well as the next month free. It'll be enough time to kick the tires and lights some fires.