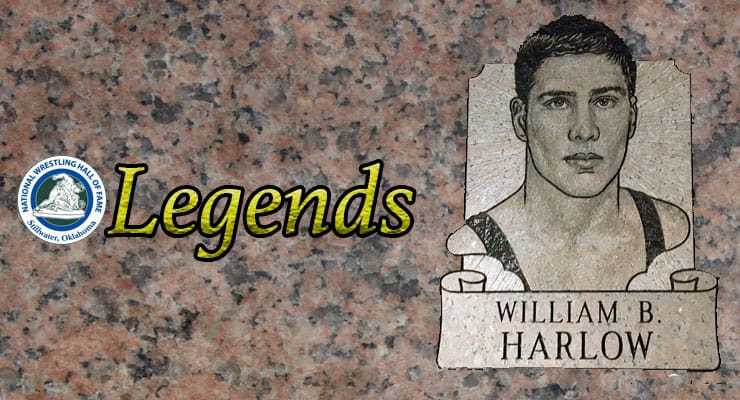 Podcast: Play in new window | Download | Embed
Subscribe to this show via: Apple Podcasts | Google Podcasts | RSS | More
Episode 4 of the National Wrestling Hall of Fame's LEGENDS podcast features 2016 Distinguished Member William "Bill" Harlow.
Thought to be the best wrestler ever to come from Tennessee and one of the greatest big men to wrestle at Oklahoma State University, William B. Harlow was a state champion, a three-time NCAA finalist and a three-time national freestyle champion.
When he arrived at Oklahoma State, however, he felt as though he had a lot of catching up to do technically and spent his years in Stillwater as a "human sponge" absorbing everything he could learn. With Distinguished Members Yojiro Uetake, Bobby Douglas, and Gene Davis as teammates during his collegiate career, learning opportunities were scattered throughout the wrestling room. He quickly gained a reputation as a slick and smooth wrestler, using technique rarely seen in a man of his size.
Harlow finished second in his first trip to the NCAA finals as a sophomore in 1964. As a junior, he won the Big Eight Conference title, but again finished as runner-up in the national tournament. Finally, as a senior, he moved up to 191 pounds and compiled a 21-0-1 record and won both the Big Eight and NCAA championships. With Uetake and Davis, he led OSU to the national team title, the second of his tenure as a Cowboy. Overall, he finished his collegiate career with a record of 54-5-2.
Harlow began his wrestling career as an eighth grader, competing for the high school team at St. Andrews School in Sewanee, Tenn. Over five years, he lost only one match and, as a senior in 1962, won the national prep championship, the state championship and his fifth Mid-South championship, earning Outstanding Wrestler honors at all three tournaments.
After leaving Oklahoma State, he concentrated on freestyle, winning three national titles, including being named Outstanding Wrestler in 1974. He represented the USA at the 1970 World Championships in Edmonton, Alberta, Canada and won a silver medal,
As he continued to train and compete, he began a high school coaching career that would last for almost 50 years, beginning in Illinois. He returned to Oklahoma, coaching at Broken Arrow High School for 16 years while teaching and working as an administrator. He was principal and wrestling coach for three years at Kellyville, Okla., High School before serving eight years in Alaska as an administrator and wrestling coach. He returned to Oklahoma to teach and coach at Sapulpa High School until his retirement in 2013.
Harlow received the Lifetime Service to Wrestling award from the Oklahoma Chapter of the National Wrestling Hall of Fame in 2005. In 2010, he was presented The Gallagher Award, given annually to an OSU wrestling alumnus who exemplifies the spirit and leadership eminent in the tradition of champions.
In recognition of his achievements as both a wrestler and a coach, William B. Harlow is honored as a Distinguished Member of the National Wrestling Hall of Fame.
SUBSCRIBE TO THE SHOW
iTunes | Stitcher | Spreaker | Soundcloud | Google Play Music | Android | RSS
Contribute
And if you're a fan of the extensive and broad-based reach of the shows on the Mat Talk Podcast Network, become a contributor today.. There are various levels of perks for the different levels of patronage. If you like wrestling content — scratch that — if you LOVE great wrestling content, consider becoming a contributor. How much you give is solely up to how much you believe it's worth to you.
Looking to start a podcast of your own?
Get a free month with Libsyn by using the promo code MTO when you sign up. You'll get the remainder of the month from when you sign up as well as the next month free. It'll be enough time to kick the tires and lights some fires.