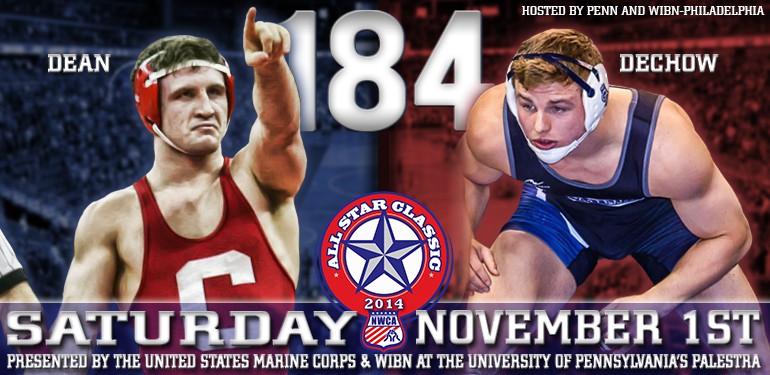 Podcast: Play in new window | Download | Embed
Subscribe to this show via: Apple Podcasts | Google Podcasts | RSS
In Episode 2 of the ODU Wrestling Monarch Matcast, we'll talk with returning All-American Jack Dechow. The Richmond, Illinois native is coming off a solid freshman season where he went 21-6 and finished fourth at the NCAA Division I Wrestling Championships at 184 pounds.
Dechow will start the year ranked second in the country at 184 pounds. He recently accepted an invitation to compete in the National Wrestling Coaches Association All-Star Classic on November 1 at the Palestra in Philadelphia. The NWCA All-Star Classic is an annual showcase of college wrestling in a dual meet format. Dechow will be the first Monarch to compete in the event since James Nicholson took to the mat in 2009. The first Monarch to compete in the event was Wayne Bright back in 1970. He wrestled Dan Gable in the match. Seriously.
Four members of the Old Dominion Wrestling family were present at the 2014 United World Wrestling Championships in Tashkent, Uzbekistan on Sept. 8-14. Assistant coach Alex Dolly was competing in his second World Championship representing Ireland, while volunteer assistant Kyle Hutter was there serving as his coach.
Dolly wrestled Azerbaijan's Gamzat Osmanov in the opening round and due to the somewhat antiquated "follow-the-leader" way United World Wrestling does its bracketing, Dolly didn't have a chance to wrestle any more because Osmanov didn't reach the finals. We call that "repechage" which is a French word meaning … well, we don't quite know what it means.
Another wrestling alum, Dr. Fred Roberto of Power Springs, Georgia was with Team USA as the official team chiropractor. Roberto is a New Jersey native and wrestled for the Monarchs in the late 80's and early 90's. He's been working with Team USA since 2009 as the team chiropractor and runs his own office down in Georgia.
Then there's Jason Bryant, the host of the Monarch Matcast, making it three ODU alums and one adopted Monarch together in Tashkent. What a strange place for a wrestling watch party.
Subscribe on iTunes – Listen on Stitcher – Listen on Spreaker