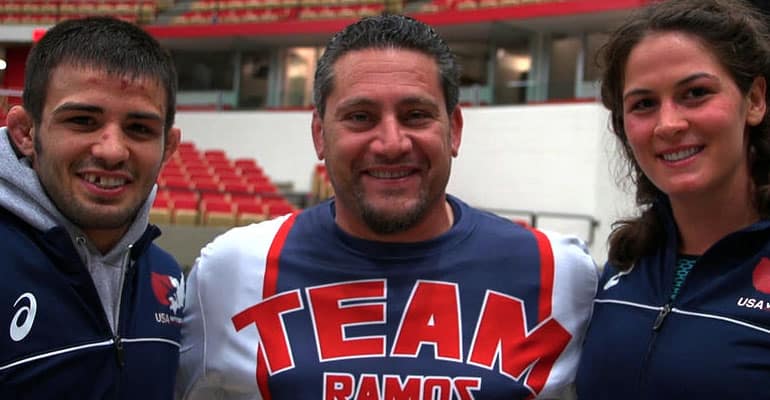 Podcast: Play in new window | Download | Embed
Subscribe to this show via: Apple Podcasts | RSS
On Episode 7 of the ODU Wrestling Monarch Matcast, we visit with head wrestling coach Steve Martin for a quick recap of Alumni Weekend against Missouri and the three duals at the Journeymen/Asics Northeast Duals where ODU faced LIU-Post, Wyoming and Purdue.
Coach Martin also looks ahead to the December 20 dual with Chattanooga set for 1 p.m. at The Ted.
The second half of our show features an interview with 1991 ODU All-American Nick Garone. After transferring in from Syracuse, Garone placed sixth in a loaded 150-pound bracket. Garone, the current CEO of X-Cel Worldwide, talks about his role in wrestling as an agent for some of the top U.S. names in international wrestling including four-time NCAA champion Kyle Dake, U.S. World Team member Tony Ramos, women's world medalist Helen Maroulis and two-time women's world champion Adeline Gray.
Garone talks about his days at Old Dominion and how proud he is of the program watching from a distance.
Keep an eye on www.monarchmatcast.com for updates and various formats of how you can listen to the show and subscribe via iTunes, Stitcher, Spreaker and TuneIn. Android and iOS apps here! Go to www.monarchmatcast.com/apps to get the FREE app for your iOS or Android device. Check the HOW TO LISTEN menu and you'll see links right to the specific apps and programs when they're made available. It's also available on the sidebar of the homepage.
Follow @mattalkonline on Twitter for updates and nuggets of information about the ODU Wrestling Monarch Matcast and all the other shows that are part of the Mat Talk Podcast Network. You can also check out our network home page at www.mattalkonline.com.