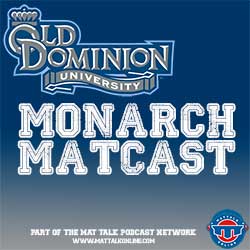 Podcast: Play in new window | Download | Embed
Subscribe to this show via: Apple Podcasts | Google Podcasts | RSS
Hello out there Monarch Nation, welcome the Monarch Matcast, a show dedicated to all things in and around the Old Dominion University Wrestling Program. I'm your host, three-time national wrestling writer and broadcaster of the year — and a 2004 graduate of ODU — Jason Bryant. The Monarch Matcast will bring you the ins and outs, the takedowns and falls and give you an insight into what makes your Old Dominion Wrestling program tick. News, Reviews, Previews and Interviews from coach Steve Martin and his staff.
It's all coming up now on the Monarch Matcast!
It's Episode 1 of the Monarch Matcast and today we'll talk with associate head coach Mike Dixon and get a preseason update and some news on some upcoming Monarch wrestling events and we'll also get a chance to talk with assistant coach Alex Dolly as he prepares to head to Tashkent, Uzbekistan to compete at the Wrestling World Championships representing … get this IRELAND.
Follow ODU wrestling on Twitter @ODUwrestling and on Facebook at facebook.com/OldDominionWrestling. Now on to the show!
In Episode 1 of the Monarch Matcast, we talk with Mike Dixon about his promotion to Associate Head Coach and his travels to get to Old Dominion. Dixon also tells Monarch Nation about the upcoming Wrestling 101 open mat session to be held on Kaufman Mall prior to the football game with Eastern Michigan on September 13.
Alex Dolly will be wrestling at the World Championships in Tashkent, Uzbekistan during September 8-14. The ODU assistant coach will be representing Ireland and will make his second appearance at the World Championships. He was ninth in the World in 2009.
Get updates on all the shows from the Mat Talk Podcast Network by following us on Twitter @mattalkonline