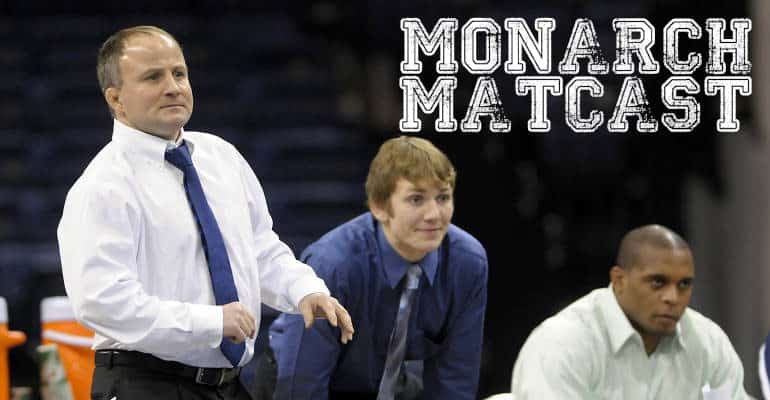 Podcast: Play in new window | Download | Embed
Subscribe to this show via: Apple Podcasts | RSS
On Episode 12 of the ODU Wrestling Monarch Matcast, we'll recap the regular season with ODU head wrestling coach Steve Martin.
The Monarch wrestlers are coming off back-to-back road trips that took them to Michigan for duals with MAC rivals Eastern Michigan and Central Michigan before coming home and turning around to go back to the Midwest with duals at Northern Iowa and Northern Illinois.
ODU went 3-1 on the two trips, getting upset by Northern Iowa 18-16 in historic West Gym in Cedar Falls. The Monarchs rallied to beat Northern Illinois to close out the regular season ranked 22nd in the country and finishing with a 13-5 record in dual meets.
Coach Martin is now 131-76-3 in 11 seasons. He's third on the all-time wrestling coaching list for career wins and can move past previous coach Gray Simons next season. Pete Robinson is the wins leader at ODU with 172, while coach Simons has 136. ODU has an opportunity to win its 500th dual next season.
Wins over several nationally-ranked teams highlighted the schedule, including a win over a top-10 opponent for the first time in program history.
We'll look at the MAC rankings and prep for the MAC championships, hosted by top-ranked Missouri on March 7-8.
Keep an eye on www.monarchmatcast.com for updates and various formats of how you can listen to the show and subscribe via iTunes, Stitcher, Spreaker and TuneIn. Android and iOS apps here! Go to www.monarchmatcast.com/apps to get the FREE app for your iOS or Android device. Check the HOW TO LISTEN menu and you'll see links right to the specific apps and programs. It's also available on the sidebar of the homepage.
Follow @mattalkonline on Twitter for updates and nuggets of information about the ODU Wrestling Monarch Matcast and all the other shows that are part of the Mat Talk Podcast Network. You can also check out our network home page at www.mattalkonline.com.