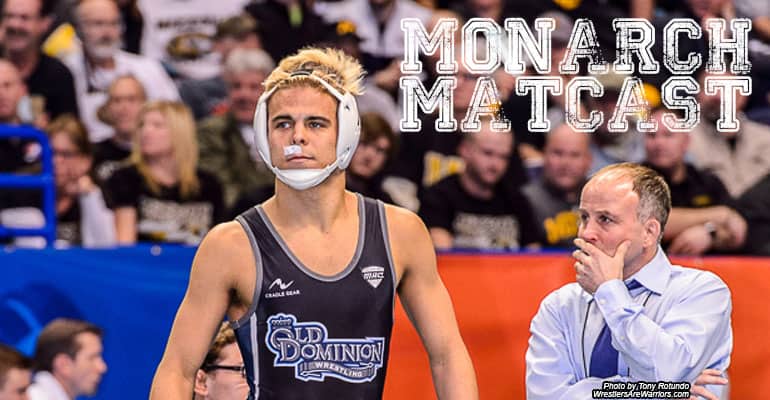 Podcast: Play in new window | Download | Embed
Subscribe to this show via: Apple Podcasts | Google Podcasts | RSS
On Episode 14 of the ODU Wrestling Monarch Matcast, it's an NCAA championship recap with ODU head wrestling coach Steve Martin.
For only the second time in school history, Old Dominion wrestlers earned multiple All-American honors in the same tournament and it was the first time since Peter Horst and Nick Garone placed in 1991 where two Monarchs were on the podium in the same year.
To put that in perspective, 141-pound All-American Chris Mecate wasn't born yet.
Mecate and 149-pound junior Alexander "Lenny" Richardson placed to help lead the Monarchs to a 22nd-place finish. Mecate reached the NCAA semifinals while Richardson earned a seventh-place finish. Tristan Warner was honored prior to the finals as the recipient of the NCAA's Elite 89 Award, which goes to the championship qualifier with the highest GPA. Warner is a double major in communications and criminal justice.
Coach Martin will break down the individual performances and look to see where the Monarchs can improve for the 2016 NCAA Division I Championships, which will be in Madison Square Garden in New York City.
Keep an eye on www.monarchmatcast.com for updates and various formats of how you can listen to the show and subscribe via iTunes, Stitcher, Spreaker and TuneIn. Android and iOS apps here! Go to www.monarchmatcast.com/apps to get the FREE app for your iOS or Android device. Check the HOW TO LISTEN menu and you'll see links right to the specific apps and programs. It's also available on the sidebar of the homepage.
Follow @mattalkonline on Twitter for updates and nuggets of information about the ODU Wrestling Monarch Matcast and all the other shows that are part of the Mat Talk Podcast Network. You can also check out our network home page at www.mattalkonline.com.