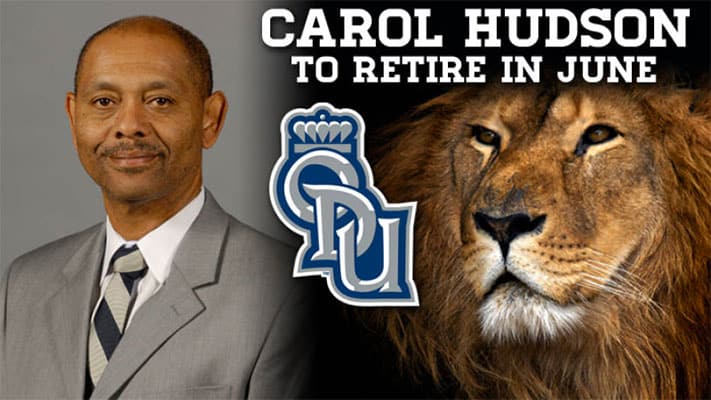 Podcast: Play in new window | Download | Embed
Subscribe to this show via: Apple Podcasts | Google Podcasts | RSS
Carol R. Hudson, Jr., Old Dominion University's Assistant Athletic Communications Director and sports information director since 1984, will retire from the University in June, as announced by Director of Athletics Dr. Wood Selig back in February.
Hudson has been a virtual fixture at ODU for over 43 years, beginning as a student manager for the Monarchs' baseball and basketball teams from 1972-76. He was a graduate intern in the sports information office under the late Joe Law, the university's first full-time SID from 1976-78. As the SID, he has served as the primary media liaison for men's basketball, men's soccer, men's and women's golf and baseball, while providing oversight and leadership for the public relations needs of all 18 intercollegiate sports.
We'll talk with "C-Hud" about his career in Norfolk, his memories of the athletics programs and specifically the wrestling program and his thoughts about the school's athletic and academic rise over the years. We'll talk a little wrestling, but we want to thank Carol for all his work over the years.
Carol taught a lot of people the do's and don'ts and personally impacted host Jason Bryant.
Shop, drop and roll
Mat Talk Online has now launched an affiliate store through Amazon.com. So if you're looking for wrestling shoes, movies, books or digital downloads, check out mattalkonline.com/store today.
Contribute
And if you're a fan of the extensive and broad-based reach of the shows on the Mat Talk Podcast Network, consider becoming a contributor by going to www.patreon.com/mattalkonline. There are various levels of perks for the different levels of patronage. If you like wrestling content — scratch that — if you LOVE great wrestling content, consider becoming a contributor. How much you give is solely up to how much you believe it's worth to you.
Looking to start a podcast of your own?
Get a free month with Libsyn.com by using the promo code MTO when you sign up. You'll get the remainder of the month from when you sign up as well as the next month free. It'll be enough time to kick the tires and lights some fires.
Keep an eye on www.monarchmatcast.com for updates and various formats of how you can listen to the show and subscribe via iTunes, Stitcher, Spreaker and TuneIn. Android and iOS apps here! Go to www.monarchmatcast.com/apps to get the FREE app for your iOS or Android device. Check the HOW TO LISTEN menu and you'll see links right to the specific apps and programs. It's also available on the sidebar of the homepage.
Follow @mattalkonline on Twitter for updates and nuggets of information about the ODU Wrestling Monarch Matcast and all the other shows that are part of the Mat Talk Podcast Network. You can also check out our network home page at www.mattalkonline.com.