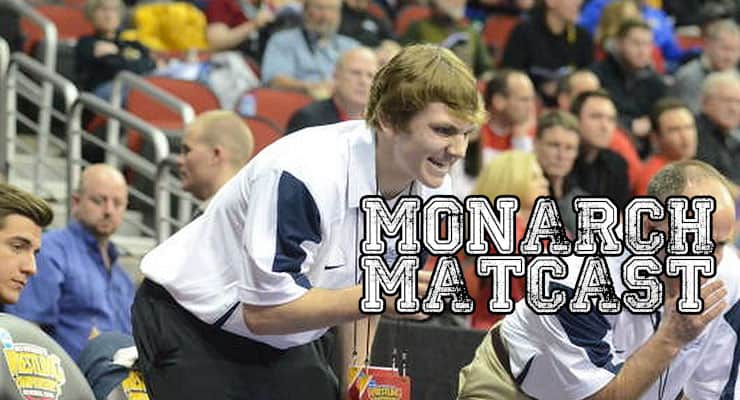 Podcast: Play in new window | Download | Embed
Subscribe to this show via: Apple Podcasts | RSS
It's been a while since Kyle Hutter last appeared on the ODU Wrestling Monarch Matcast, but on Episode 19, we'll talk with the volunteer assistant coach about the latest happenings in his world.
Hutter recently competed at 61kg at the U.S. World Team Trials in Madison, Wisconsin. The World Team Trials is the tournament that determines who will represent the United States at the 2015 World Championships in Las Vegas. Hutter talked about the competition and how he plans to move back down to 57kg in an attempt to make the U.S. Olympic team next year in freestyle wrestling.
Hutter also talks about the rumored Ricky Bobby night, and what he recalls about coming to ODU as a student-athlete and how things have changed in Norfolk since he arrived.
Of course, there's some old jokes and a listener question from someone who might or might not be on the team.
Shop, drop and roll
Mat Talk Online has now launched an affiliate store through Amazon.com. So if you're looking for wrestling shoes, movies, books or digital downloads, check out mattalkonline.com/store today.
Contribute
And if you're a fan of the extensive and broad-based reach of the shows on the Mat Talk Podcast Network, consider becoming a contributor by going to www.patreon.com/mattalkonline. There are various levels of perks for the different levels of patronage. If you like wrestling content — scratch that — if you LOVE great wrestling content, consider becoming a contributor. How much you give is solely up to how much you believe it's worth to you.
Looking to start a podcast of your own?
Get a free month with Libsyn.com by using the promo code MTO when you sign up. You'll get the remainder of the month from when you sign up as well as the next month free. It'll be enough time to kick the tires and lights some fires.
Keep an eye on www.monarchmatcast.com for updates and various formats of how you can listen to the show and subscribe via iTunes, Stitcher, Spreaker and TuneIn. Android and iOS apps here! Go to www.monarchmatcast.com/apps to get the FREE app for your iOS or Android device. Check the HOW TO LISTEN menu and you'll see links right to the specific apps and programs. It's also available on the sidebar of the homepage.
Follow @mattalkonline on Twitter for updates and nuggets of information about the ODU Wrestling Monarch Matcast and all the other shows that are part of the Mat Talk Podcast Network. You can also check out our network home page at www.mattalkonline.com.