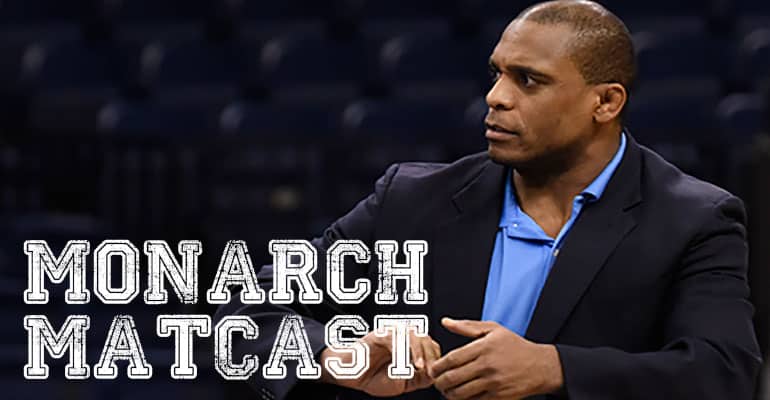 Podcast: Play in new window | Download | Embed
Subscribe to this show via: Apple Podcasts | Google Podcasts | RSS
Episode 20 of the ODU Wrestling Monarch Matcast features Associate Head Coach Mike Dixon as we recap the summer of wrestling at Old Dominion.
Dixon was recently at the National Wrestling Coaches Association Convention in Fort Lauderdale, Florida and we'll discuss some of the topics relevant to Old Dominion that came out of the convention.
Some of those topics include wrestling's overall push for greater APR scores, a potential shift in the season and how the National Duals discussion impacts the program.
Dixon will also recap some of the academic success the program has had in recent years, how the program has changed its focus on recruiting and we'll wrap with some discussion about the schedule, home duals, alumni events and of course, the incoming class of freshmen and transfers.
Contribute
And if you're a fan of the extensive and broad-based reach of the shows on the Mat Talk Podcast Network, consider becoming a contributor by going to www.patreon.com/mattalkonline. There are various levels of perks for the different levels of patronage. If you like wrestling content — scratch that — if you LOVE great wrestling content, consider becoming a contributor. How much you give is solely up to how much you believe it's worth to you.
Looking to start a podcast of your own?
Get a free month with Libsyn.com by using the promo code MTO when you sign up. You'll get the remainder of the month from when you sign up as well as the next month free. It'll be enough time to kick the tires and lights some fires.
Keep an eye on www.monarchmatcast.com for updates and various formats of how you can listen to the show and subscribe via iTunes, Stitcher, Spreaker and TuneIn. Android and iOS apps here! Go to www.monarchmatcast.com/apps to get the FREE app for your iOS or Android device. Check the HOW TO LISTEN menu and you'll see links right to the specific apps and programs. It's also available on the sidebar of the homepage.
Follow @mattalkonline on Twitter for updates and nuggets of information about the ODU Wrestling Monarch Matcast and all the other shows that are part of the Mat Talk Podcast Network. You can also check out our network home page at www.mattalkonline.com.