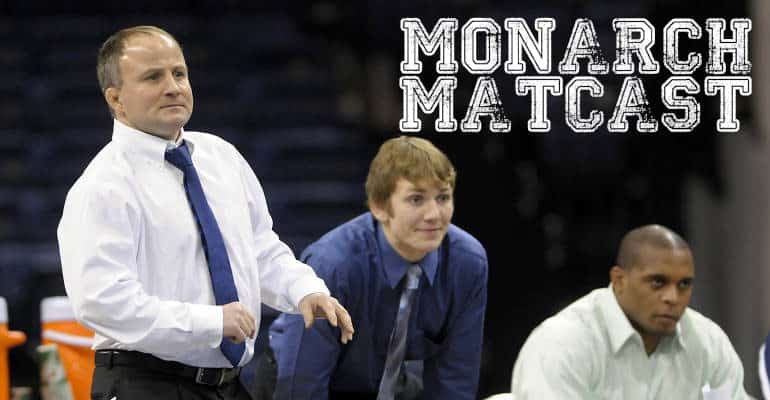 Podcast: Play in new window | Download | Embed
Subscribe to this show via: Apple Podcasts | Google Podcasts | RSS
Episode 25 of the ODU Wrestling Monarch Matcast visits with head wrestling coach Steve Martin.
The Monarchs are coming off a trip to California where they picked up wins over Cal Poly and San Francisco State. The win over Cal Poly was the Monarchs' first over the Mustangs as the schools met for the first time in 33 years in a dual.
ODU has two big duals coming up, one at The Ted and another on the road. On December 13, the Monarchs host No. 16 North Carolina, which brings in All-Americans Evan Henderson and Ethan Ramos. On December 17, ODU heads down to Raleigh, N.C., to take on No. 5 N.C. State. The Wolfpack are fresh off a win over Oklahoma State.
Chris Mecate, ODU's senior All-American 141 pounder, will face Henderson and All-American Kevin Jack, the N.C. State wrestler who defeated Mecate for fifth place at the 2015 NCAA Division I Championships.
SUBSCRIBE TO THE SHOW
iTunes | Stitcher | Spreaker | Soundcloud | TuneIn | RSS | Android App | iOS App
Contribute
And if you're a fan of the extensive and broad-based reach of the shows on the Mat Talk Podcast Network, become a contributor today.. There are various levels of perks for the different levels of patronage. If you like wrestling content — scratch that — if you LOVE great wrestling content, consider becoming a contributor. How much you give is solely up to how much you believe it's worth to you.
Looking to start a podcast of your own?
Get a free month with Libsyn by using the promo code MTO when you sign up. You'll get the remainder of the month from when you sign up as well as the next month free. It'll be enough time to kick the tires and lights some fires.
Follow @mattalkonline on Twitter for updates and nuggets of information about the ODU Wrestling Monarch Matcast and all the other shows that are part of the Mat Talk Podcast Network. You can also check out our network home page at www.mattalkonline.com.