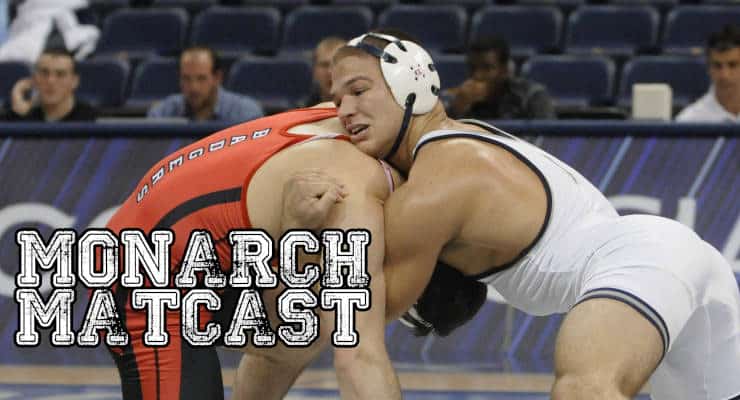 Podcast: Play in new window | Download | Embed
Subscribe to this show via: Apple Podcasts | Google Podcasts | RSS
One of the more entertaining personalities on the Old Dominion wrestling team is senior Austin Coburn. A native of the Richmond, Va., area, Coburn was a state champion in 2011 at Cosby High School and opted to enroll at ODU. On Episode 28 of the ODU Wrestling Monarch Matcast, Coburn talks about his move up through four different weight classes, his general demeanor and why he chose Old Dominion.
Coburn has wrestled most the year at 197 pounds, but in the past three duals, he's 3-0 bumping up to heavyweight. The Monarchs go for program victory No. 500 on Sunday, February 14 at the Ted against Eastern Michigan and American.
SUBSCRIBE TO THE SHOW
iTunes | Stitcher | Spreaker | Soundcloud | TuneIn | RSS | Android App | iOS App
JOIN THE TEAM
And if you're a fan of the extensive and broad-based reach of the shows on the Mat Talk Podcast Network, become a TEAM MEMBER today. There are various levels of perks for the different levels of team membership. If you like wrestling content — scratch that — if you LOVE great wrestling content, consider becoming a team member. You'll get some cool stuff too.
Looking to start a podcast of your own?
Get a free month with Libsyn by using the promo code MTO when you sign up. You'll get the remainder of the month from when you sign up as well as the next month free. It'll be enough time to kick the tires and lights some fires.
Follow @mattalkonline on Twitter for updates and nuggets of information about the ODU Wrestling Monarch Matcast and all the other shows that are part of the Mat Talk Podcast Network. You can also check out our network home page at www.mattalkonline.com.