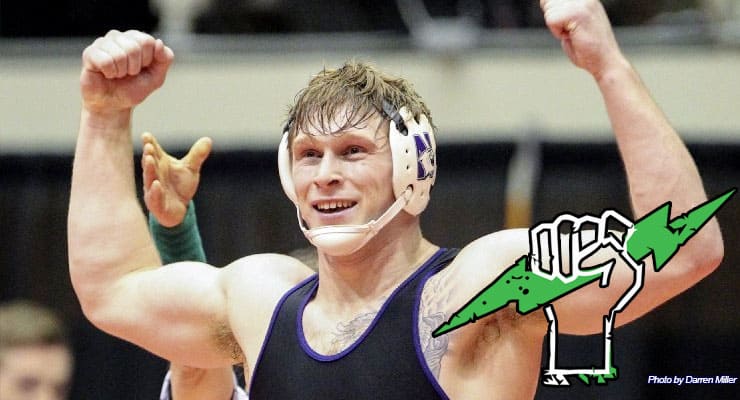 Podcast: Play in new window | Download | Embed
Subscribe to this show via: Apple Podcasts | Google Podcasts | Stitcher | RSS
PAPC15:  Pennsylvania native, four-time All-American, and current Northwestern University Assistant Coach Mike McMullan joins the program to discuss how he views his career in hindsight, what it took for him to change the landscape of heavyweight wrestling, the unique challenges of coaching college wrestling*, and much more.
The dynamic duo of @WarnTriz and @Beck_Diggity take listeners on more than an hour's worth of a wrestling adventure. They discuss a variety of topics in episode 15 including a preview of the Cliff Keen Las Vegas Invitational, a breakdown of the Lehigh/Penn State dual, and a couple groups of people that need to calm down with their reactions to results. (Photo courtesy of Northwestern University Athletics)
*Link to Mike's article on collegiate coaching
Show Breakdown
01:00 – Tristan and Mason are the Proud Parents of a Teenage Podcast
06:00 – OW's and Challenge Bricks of the Weekend
14:30 – #AskTnT
17:00 – Week 4 Recap
22:00 – Vegas, Baby!! CKLV Preview
42:30 – Lehigh Vs Penn State Preview
49:30 – Mike McMullan joins the program and discusses competing, coaching, and what the future may hold
Subscribe to the PA Power Podcast on iTunes today and give us a review! Follow @PAPowerWrestle for all your Pennsylvania Wrestling needs!